Meryl Streep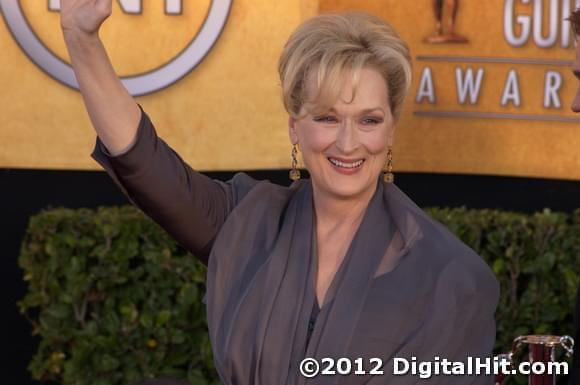 Check out our Meryl Streep photo gallery.
Born: June 22, 1949 Summit, New Jersey, USA
[Please note that we are recovering from a bad database backup and some of our bio entries might be a bit stale. We are baking up a fresh batch as soon as possible.]
Mary Louise Streep was born on June 22, 1949 in Summit, New Jersey. Her early interest in performing led her to Vassar College and after earning her acting degree at Vassar in 1971, she then headed to the Yale School of Drama. She received her master's degree in 1975, but not before appearing in over forty plays.
Streep moved to New York and hit the stage with her Broadway debut in Trelawney of the Wells in 1975. She would later be seen as part of the New York Shakespeare Festival in the plays Henry V, Measure for Measure and The Taming of the Shrew and earned a Tony Award nomination for Tennessee Williams' 27 Wagons Full of Cotton in 1976.
She was soon seen on television in the 1977 TV movies Secret Service and The Deadliest Season. That year, she also made her feature film debut in Julia. She was then seen opposite Robert De Niro in 1978's The Deer Hunter, which earned her first Academy Award nomination. 1979 saw her in Woody Allen's Manhattan and playing the neglectful mother who runs out on her family in Kramer vs. Kramer with Dustin Hoffman. The role earned Streep her first Academy Award.
In the Eighties, Streep was seen in a variety of roles. 1981's The French Lieutenant's Woman with Jeremy Irons earned her another Academy Award nomination. In 1982, she appeared in Still of the Night opposite Roy Scheider and won her second Academy Award for Sophie's Choice, playing a concentration camp survivor who tells the story of her tormented past. Yet another Oscar nomination greeted her performance in 1983' Silkwood (opposite Kurt Russell and Cher), as she played Karen Silkwood, a factory worker turned whistle-blower. She teamed up again with Robert De Niro for 1984's Falling in Love, then worked opposite Robert Redford in 1985's Out of Africa. Heartburn in 1986 had her opposite Jack Nicholson, as did the following year's Ironweed. A Cry in the Dark (famous for the oft-misquoted line "The dingo took my baby!") teamed her with Sam Neil in 1988, while the comedy She-Devil had her working with Roseanne Barr in 1989. Out of Africa, Ironweed and A Cry in the Dark all added to her list of nominations.
Streep started off the Nineties in the Carrie Fisher-penned Postcards from the Edge, which had Streep's mother played by Shirley MacLaine. 1991 had her teamed with Albert Brooks in the comedy Defending Your Life. Another comedy beckoned in 1992, when she starred with Goldie Hawn and Bruce Willis in Death Becomes Her.
She was in the thriller The River Wild with Kevin Bacon in 1994, then starred with Clint Eastwood in the film adaptation of The Bridges of Madison County, a role that earned her yet another Oscar nomination. In 1996, she was in Marvin's Room with Robert De Niro, Hume Cronyn, Diane Keaton and Leonardo DiCaprio. 1998 saw her in Dancing at Lughnasa with Michael Gambon and in One True Thing opposite Reneé Zellweger and William Hurt, earning her another Oscar nomination. She earned another one for 1999's Music of the Heart opposite Angela Bassett and Gloria Estefan.
In 2001, Streep lent her voice to Steven Spielberg's A.I. Artificial Intelligence. She starred with Nicole Kidman, Julianne Moore and Ed Harris in 2002's The Hours and worked with Nicolas Cage and Chris Cooper in Adaptation, earning her another Oscar nomination.
In 2003 she had a fun cameo in the Farrelly Brothers' comedy Stuck on You opposite Greg Kinnear and Matt Damon, then won her first Emmy Award playing Ethel Rosenberg in the TV mini-series Angels in America, which also starred Al Pacino. She played the domineering mother from hell in 2004's The Manchurian Candidate opposite Denzel Washington and Liev Schreiber and Denzel Washington, then switched gears with Lemony Snicket's A Series of Unfortunate Events with Jim Carrey.
In 2006, Streep joined an ensemble cast featuring Lily Tomlin, John C. Reilly, Lindsay Lohan, Kevin Kline, Garrison Keillor, Tommy Lee Jones and Woody Harrelson for Robert Altman's last film, A Prairie Home Companion. She then earned a record-breaking fourteenth Oscar nomination for her boss-from-hell rumored portrayal of Anna Wintour in The Devil Wears Prada opposite Anne Hathaway and lent her voice to the animated film The Ant Bully. 2007 saw her in Rendition with Reese Witherspoon and Jake Gyllenhaal and the critically disappointing Lions for Lambs opposite Tom Cruise and Robert Redford.
2008 saw her singing with Pierce Brosnan, Amanda Seyfried and Colin Firth in the film adaptation of the ABBA musical Mamma Mia! and playing a nun who is at odds with Philip Seymour Hoffman's character in Doubt with Amy Adams and Viola Davis. In 2009, she played Julia Child in Julie & Julia with Amy Adams and Stanley Tucci and worked opposite Steve Martin and Alec Baldwin in the comedy It's Complicated, about a woman having an affair with her ex-husband while she sees another man.
In 2011, Streep played Margaret Thatcher in The Iron Lady which earned the actress her third Academy Award. In 2012, she starred with Tommy Lee Jones in Hope Springs and in the following year earned yet another Oscar nomination for August: Osage County with Dermot Mulroney and Julia Roberts, which earned her yet another Academy Award nomination. A busy 2014 saw her with Hilary Swank and daughter Grace Gummer in The Homesman, The Giver with Jeff Bridges and the musical Into the Woods with Emily Blunt and Anna Kendrick. The last film saw her at the Academy Awards yet again.
As time progresses, we'll have more info about Meryl Streep here. If you have any comments or suggestions about our coverage, please email us.