Emily Blunt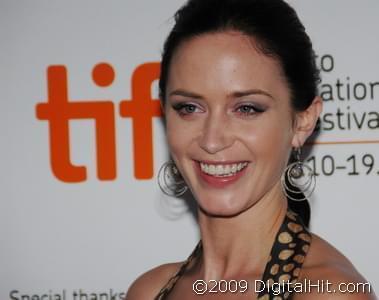 Check out our Emily Blunt photo gallery.
Born: Feb. 23, 1983 London, England, UK
[Please note that we are recovering from a bad database backup and some of our bio entries might be a bit stale. We are baking up a fresh batch as soon as possible.]
Emily Olivia Leah Blunt was born on February 23rd, 1983 in London, England. Her first acting influences came from her mother, a teacher who had an earlier career as a stage and television actress. While still in high school, Emily was cast in the 2001 stage production The Royal Family opposite Dame Judi Dench. Named "Best Newcomer" by The Evening Standard, Blunt then played Juliet in Romeo and Juliet at the Chichester Festival in 2002.
Her TV debut came playing Isolda in the 2003 UK series Boudica, a year that also saw her in the TV movie Henry VIII playing Catherine Howard. She then played a woman involved with a former inmate in 2004's My Summer of Love and was then cast in the 2005 mini-series Empire.
2005 also saw Emily in The Strange Case of Sherlock Holmes & Arthur Conan Doyle and Gideon's Daughter as well as the ABC mini-series Rome. In 2006, she appeared in Irresistible and caught the attention of critics and audiences playing the stressed out assistant in The Devil Wears Prada opposite Meryl Streep and Anne Hathaway.
From there, Blunt starred in 2007's Wind Chill, and appeared in The Jane Austen Book Club with Hugh Dancy, Dan in Real Life with Steve Carell, Charlie Wilson's War opposite Tom Hanks, Julia Roberts and Philip Seymour Hoffman. In 2008, Emily was in Sunshine Cleaning with Amy Adams and Alan Arkin and The Great Buck Howard with John Malkovich. 2009 saw her in Curiosity and playing the title character in The Young Victoria.
Blunt, who formerly dated jazz singer Michael Buble, is engaged to The Office's John Krasinski.
As time progresses, we'll have more info about Emily Blunt here. If you have any comments or suggestions about our coverage, please email us.