Tom Hanks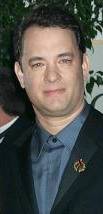 Check out our Tom Hanks photo gallery.
Born: July 9, 1956 Concord, California, USA
[Please note that we are recovering from a bad database backup and some of our bio entries might be a bit stale. We are baking up a fresh batch as soon as possible.]
Tom Hanks — actor, writer, producer and director — was born in Concord, California on July 9th, 1956. A class clown and self-described "geek", Hanks appeared in high school plays and studied theater at Chabot College upon graduation, later transferring CSU Sacramento.
He met Vincent Dowling, head of Cleveland's Great Lakes Theater Festival, and took his suggestion to intern at the festival, a three-year education into all aspects of live production. In 1978, he won the Cleveland Critics Circle Award for Best Actor for his portrayal of Proteus in The Two Gentlemen of Verona.
The following year, Hanks made the move to New York and landed his film debut in the 1980 slasher flick He Knows You're Alone. From there, he and Peter Scolari landed roles on the sitcom Bosom Buddies, where they played ad men who were forced to dress as women so they could stay in an inexpensive all-women hotel. The show only lasted 37 episodes, but Hanks' star was on the rise. In 1983 and 1984, he appeared three times on the popular series Family Ties.
After appearing on Happy Days back in 1982, Happy Days star and budding director Ron Howard contacted Hanks to star opposite John Candy and Darryl Hannah in the 1984 romantic comedy Splash, which was about a mermaid who falls in love with a human. The film was a big hit and another film that year, Bachelor Party, also kept Hanks in the spotlight.
1985 saw Hanks appear in The Man with One Red Shoe and in Volunteers opposite Splash co-star John Candy and future wife Rita Wilson. The following year, he showed off some dramatic chops opposite Jackie Gleason in Nothing in Common and in the wartime drama Every Time We Say Goodbye and displayed his physical comedy skills in The Money Pit with Shelley Long. The following year, he appeared with Dan Aykroyd in Dragnet.
1988 was another big year for Hank, literally, as he starred in Penny Marshall's funny and tender Big, about a boy wakes up to find himself in an adult man's body after making a wish at a fair. That same year, his dramatic chops were tested once again in Punchline, where he and Sally Field played struggling comedians.
Except for the comedy Turner & Hooch, in 1989, the two year period that followed handed Hanks some duds and misfires like 1989's The 'Burbs and 1990's Joe Versus the Volcano and The Bonfire of the Vanities.
He turned that around in 1992, playing the manager of a women's baseball team in A League of Their Own. 1993 was another great year for Hanks, firmly establishing his space in the genres of romantic comedy — Sleepless in Seattle opposite Meg Ryan — and drama, working with Denzel Washington in Philadelphia. The film, in which Hanks portrayed an AIDS-stricken lawyer fighting a discrimination suit, earned him his first Academy Award for Best Actor.
He followed that film with the 1994 classic Forrest Gump, a role that earned him another Best Actor Oscar, making him the second actor after Spencer Tracy to win consecutive statuettes in that category.
Hanks followed Gump by re-teaming with Ron Howard for Apollo 13 opposite Kevin Bacon and Bill Paxton and became part of animated film's favorite duos when he and Tim Allen lent their voices to Pixar's Toy Story.
Tom had directed a handful of TV episodes, but in 1996 he put on his feature film directing hat and helmed That Thing You Do!, which followed a pop group in the 1960s. He started a production company, Playtone, that was named after the record label in the film.
Two years later, Hanks had a busy and fruitful year. He produced, co-wrote and co-directed the HBO series From the Earth to the Moon, which traced the history of the space race. He followed that with Saving Private Ryan, with its spectacular re-creation of the D-Day invasion. The film earned director Steven Spielberg his second Academy Award and Hanks received a Best Actor nomination for his portrayal of Captain Miller. After two sweeping stories, Hanks ended the year with the popular romantic comedy You've Got Mail, which re-teamed him with his Sleepless in Seattle co-star Meg Ryan.
The following year, he starred in The Green Mile, based on the Stephen King novel, and jumped into the toy chest again as Woody in Toy Story 2.
Hanks started off the new century by losing weight to portray a stranded FedEx employee in the Robert Zemeckis film Cast Away. The next year Hanks, who worked hard to get funding for a World War II memorial in Washington, D.C., produced and directed the WWII HBO series Band of Brothers.
Hanks has often played the likeable everyman, but in 2002 he went darker, playing a hitman in Sam Mendes' adaptation of Richard Piers Rayners' graphic novel Road to Perdition, which had him playing opposite Jude Law and Paul Newman. He re-teamed with Steven Spielberg and worked opposite Leonardo DiCaprio in the crime caper Catch Me If You Can and had a huge payday when he and wife Rita Wilson produced Nia Vardalos' Big Fat Greek Wedding, a low-budget film that turned into a worldwide mega-hit. Firmly ensconced in Hollywood's A-list, Hanks became the youngest recipient of the American Film Institute's Life Achievement Award that year.
Three films kept Hanks busy in 2004. He worked with the Coen brothers in the quirky The Ladykillers, worked with Catherine Zeta-Jones in Steven Spielberg's The Terminal and re-teamed with Robert Zemeckis for the motion-caption animated movie The Polar Express.
Two years later, Hanks starred in Ron Howard's adaptation of Dan Brown's wild successful novel The Da Vinci Code. 2007 saw him working with Julia Roberts and Philip Seymour Hoffman in Mike Nichol's Charlie Wilson's War. In 2008, he had a role in The Great Buck Howard, which starred Colin Hanks, Tom's son from his first marriage.
2009 arrived and saw Tom re-teaming with Ron Howard for the Da Vinci Code sequel Angels & Demons. The following year, he and Tim Allen once again voiced Woody and Buzz for Toy Story 3.
Nia Vardalos and Hanks co-wrote Larry Crowne and Hanks directed and starred in the 2011 movie opposite Julia Roberts. That same year, he appeared with Sandra Bullock in the 9/11 film Extremely Loud and Incredibly Close.
Two films garnered Hanks attention in 2013 and in both he played real-life characters. In Captain Phillips, Hanks portrayed the captain of the ship the Maersk Alabama, which was hijacked by Somali pirates. In Saving Mr. Banks, which had Hanks working with Emma Thompson and Colin Farrell, he portrayed Walt Disney in his quest to get the film rights for Mary Poppins from author P.L. Travers.
On the personal side, Hanks was married to actress Samantha Lewes from 1978 to 1987. The couple had two children, Colin (also an actor) and Elizabeth Ann. He married Rita Wilson in 1998 and they had two children as well, rapper Chester "Chet" Marlon and youngest son, Truman Theodore.
As time progresses, we'll have more info about Tom Hanks here. If you have any comments or suggestions about our coverage, please email us.