Sandra Bullock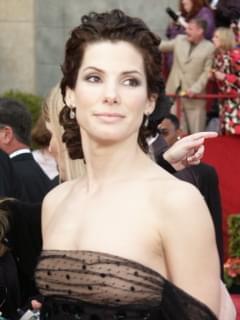 Check out our Sandra Bullock photo gallery.
Born: July 26, 1964 Washington, D.C., USA
[Please note that we are recovering from a bad database backup and some of our bio entries might be a bit stale. We are baking up a fresh batch as soon as possible.]
Sandra Bullock received a Golden Globe nomination for her role in Miss Congeniality and perhaps congeniality has something to do with her success. Sandra comes across as an Everywoman, or Everygal, that audiences can identify with, you know someone who'd go out for a beer with you after saving your life on a speeding bus. But more on that bus later.
Born in Washington, D.C. on July 26th, 1964 and raised in Arlington, Virginia, Sandra is the daughter of the late German opera singer Helga Bullock.
When your mother's an opera singer and your father's a vocal coach, a little of the stage bug has to rub off on you. Voted "Most Likely to Brighten Your Day" by her high school senior class, Sandra entered East Carolina University's drama program. By 1985 she decided to try pursuing her career and with her parents' blessing, dropped out.
Tending bar and taking classes, Sandra began to study with Sanford Meisner. In 1988, she had a role in the off-Broadway play No Time Flat. Reviews for the show weren't great but her work was singled out for kudos by critic John Simon. That review helped her get an agent and a role in 1989's Bionic Showdown: The Six-Million-Dollar Man and the Bionic Woman. (I wish we were making that up, but we're not.)
Moving to L.A., Sandra landed the starring role in NBC's TV adaptation of the Melanie Griffith film Working Girl. The show only lasted six episodes and Sandra made several TV movies after that. In 1991, she appeared in the forgettable Love Potion No. 9 a film that did introduce her to actor Tate Donavan. The couple stayed together for three years.
In 1993, she managed to land roles in five projects including Demolition Man opposite Sylvester Stallone. Producer Joel Silver recommended her to first-time director (and long time action cinematographer) Jan De Bont who was getting ready to helm a little bus movie with Keanu Reeves. De Bont's backers wanted someone "more established" (read that as "sexier and with bigger breasts") for the female lead, but the director insisted.
Speed, of course, was a big hit and suddenly backers thought Bullock was marketable. Her next film, the relatively unremarkable 1995 low budget flick While You Were Sleeping, proved that point with a worldwide gross nearing the $200 million mark.
She then received her first seven figure paycheck for her role in A Time to Kill which also featured Matthew McConaughey and Samuel L. Jackson. Bullock's career wasn't completely bulletproof at this point thought. She flopped three times in a row with Two If By Sea, In Love and War, and the sequel Speed 2: Cruise Control which might as well have hit an iceberg.
Bullock decided to take more control of her career at this point and in 1998 she produced and starred in Hope Floats. While not a bona fide hit, the film managed to put the deodorant on the stink that was her career at that point. She also fared well opposite Nicole Kidman in Practical Magic that year and lent her voice to the animated Prince of Egypt.
In 1999, she appeared opposite Ben Affleck in Forces of Nature and a busy 2000 saw her star in Gun Shy with Liam Neeson, 28 Days and her Globe-nominated turn in Miss Congeniality with Michael Caine. None of those films were runaway hits but they fall into the OK-box-office-might-do-well-in-rentals category and Sandra's career remained basically unscathed.
In 2002, Sandra appeared in Murder by Numbers and Divine Secrets of the Ya-Ya Sisterhood and worked with Hugh Grant in the 2003 romantic comedy Two Weeks Notice.
She hit the festival circuit in 2004, pushing Paul Haggis' ensemble drama, Crash, which was released wide in 2005. She also did a sequel, Miss Congeniality 2: Armed and Fabulous and in July of 2005, she married Monster Garage star and West Coast Choppers founder, Jesse James.
In 2006, Sandra reteamed with Keanu Reeves for The Lake House and played Harper Lee in the Truman Capote bio Infamous. The next year, she starred with Nip/Tuck's Julian McMahon in Premonition.
Bullock said she intentionally took some time off while she considered what types of movies she wanted to make. She returned to the screen in 2009. While All About Steve with Bradley Cooper earned her a Razzie for Worst Actress, she did much better with The Proposal, a comedy with Ryan Reynolds. The real hit of 2009 for her was The Blind Side, a true-life story which earned her several Best Actress awards including a Golden Globe, SAG Award and Academy Award.
Unfortunately, Sandra was hit by a real "blind side" just weeks after the awards season when news came out that Jesse James had cheated on her with multiple women. James later entered rehab for Hollywood's favourite excuse: sex addiction.
As time progresses, we'll have more info about Sandra Bullock here. If you have any comments or suggestions about our coverage, please email us.