Michael Caine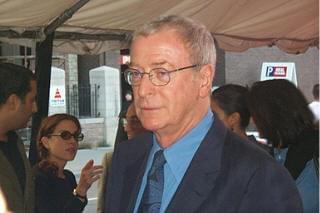 Check out our Michael Caine photo gallery.
Born: Mar. 14, 1933 London, England, UK
[Please note that we are recovering from a bad database backup and some of our bio entries might be a bit stale. We are baking up a fresh batch as soon as possible.]
On March 14th, 1933, Maurice Joseph Micklewhite was born. After changing his name to Michael Caine, lil' Maurice earned audiences love and respect as a versatile, hard-working actor.
His international film career was launched by 1966's Alfie, playing a womanizing Cockney in swinging London. Still playing a working-class character, Caine completed a trilogy of espionage movies, playing Len Deighton's bespectacled agent, Harry Palmer, in Ipcress File, Funeral in Berlin and The Billion Dollar Brain.
Michael Caine obviously loves working on films because he's made dozens of them ranging from excellent (Mona Lisa) to truly awful ([Blame It on Rio and Jaws: The Revenge]). He's got such a good attitude about him that audiences forgive him in the dreck and love him in the good stuff.
The "good stuff" has done quite well for him and he's either won or been nominated for the Emmys, the Oscars®, and the Golden Globes. He was also a big hit with the press on the 9th and 10th days of the 1998 Toronto International Film Festival.

Totally enjoyable in both comedies and dramas, Michael Caine still has many roles left to play, and we're all better off because of that. With so many characters under his belt, Caine is an excellent study for young actors who want to get into film. His book Acting in Film : An Actor's Take on Movie Making gives the student actor valuable tips on acting in front of the camera.
Michael was nominated for the 57th Annual Golden Globe Awards for his role in The Cider House Rules. He later won both the SAG and Academy Awards. At the Oscars®, Caine paid tribute to his fellow nominees in a very touching speech.
In June of 2000, he became Sir Michael Caine, when the Queen gave him a knighthood in her annual birthday honours list.
Busy as always, 2000 also saw him appear in Miss Congeniality with Sandra Bullock, the remake of Get Carter with Sylvester Stallone, and Quills with Geoffrey Rush and Joaquin Phoenix.
In 2001, Michael made Quicksand, Boswell for the Defence and Last Orders, while in 2002, he starred as Mike Myers' father in Austin Powers in Goldmember.
His work in 2002's The Quiet American (opposite Brendan Fraser) earned him Golden Globe and Oscar® nominations. Always a busy actor, Caine appeared in three films in 2003: The Actors, Secondhand Lions (with Robert Duvall) and The Statement.
He also kept busy in 2005, appearing in Bewitched, Batman Begins, and The Weather Man.
In 2006, Caine had small but memorable roles in both Children of Men (with Clive Owen) and The Prestige opposite Hugh Jackman and Christian Bale.
In 2007, Caine played the role originally played by Laurence Olivier while Jude Law had his original role in the remake of Sleuth. That same year he also filmed Flawless with Demi Moore.
He once again played Alfred in the summer 2008 flick The Dark Knight.
As time progresses, we'll have more info about Michael Caine here. If you have any comments or suggestions about our coverage, please email us.