Mike Myers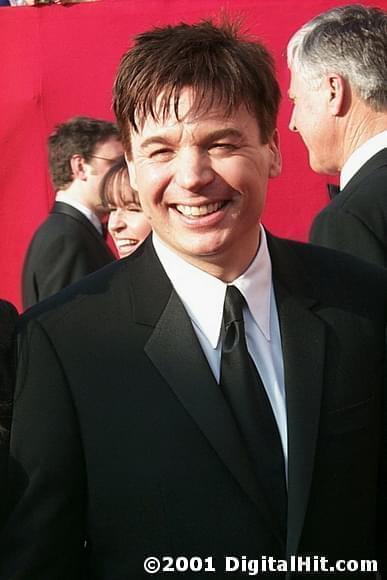 Check out our Mike Myers photo gallery.
Born: May 25, 1963 Scarborough, Ontario, Canada
[Please note that we are recovering from a bad database backup and some of our bio entries might be a bit stale. We are baking up a fresh batch as soon as possible.]
Mike Myers is a shining example of why Canadians do so well in comedy.
Like his fellow Canadians Dan Aykroyd and Jim Carrey, Myers grew up influenced by U.S. and British programming. Canadian comics and writers often say their edge comes from being close enough to understand American sensibilities and distant enough to poke fun at them.
Born in the Toronto suburb of Scarborough, Myers was the son of British immigrants and Mike has said that his friends loved their Beatlesque Liverpudlian accents. Myers' father, an Encyclopedia Britannica salesman, introduced Mike to the works of comic geniuses Peter Sellers and Monty Python's Flying Circus. Myers says that his Austin Powers character is dedicated to his father's love of all that is British and melds Bond with British comedy.
Mike had the acting bug and his mother, who wanted to act and had studied at the London Academy of Music and Dramatic Arts, nurtured his ambition. By age eight he had appeared in commercials and later appeared on the CBC's King of Kensington, which starred Cagney and Lacey's Al Waxman. During this time he shot a commercial with Gilda Radner. He loved the actress and when he saw her on SNL he vowed he would one day be on the show with her.
Though he had applied to York University in Toronto, his last day of high school was a turning point. He finished his last exam, auditioned for the city's Second City troupe and was offered a job. Myers became very proficient at improv there and later moved on to Second City's Chicago ensemble. He also made his Canadian TV series debut, working with his comedy partner Neil Mullarkey on a show entitled (what else?) Mullarkey & Myers. He also met his future wife, writer Robin Ruzan, during this period.
1989 marked the start of Myers' six years with Saturday Night Live. He created a ton of memorable characters there including cable-access host Wayne, German Dieter (host of Sprokets), Angus (the proprietor of All Things Scottish), and Coffee Talk host Linda Richman, whose character was based on Robin's mother. He took his Wayne character to the big screen in 1992's Wayne's World. That film was a huge hit for Myers and SNL pal Dana Carvey. However, the film's 1993 sequel and another flick So I Married an Axe Murderer both stiffed at the box office.
Myers decided he need some change in his life. He married Robin, quit SNL, and took a year off from movies. He used the break to take the Barbra Striesand-obsessed Linda Richman character on tour with Streisand, who had once appeared on one of Myers' SNL sketches. He also formed a '60s rock band, Ming Tea, with musicians Matthew Sweet and Susanna Hoffs. The band was quite good and was offered the position of house band at Johnny Depp's Viper Room club. The '60s rock setting was part of the inspiration for Mike's Austin Powers character.
By 1997 Myers had developed a script around the character and created 1997's Austin Powers: International Man of Mystery, where Myers played both the politically incorrect cryogenically-frozen British spy and his opponent, the aptly named Dr. Evil. The film did okay in the theaters but was really discovered and turned into a cult hit when it was released on video.
Unfortunately, Myers followed the film with his first serious role as disco owner Steve Rubell in 54. The film thudded out of theaters faster than a disco beat, but Myers did get some positive notice for his performance.
Myers highly-anticipated follow-up, Austin Powers: The Spy Who Shagged Me was released in the summer of 1999. Myers also lent his vocal talents to the computer-animated hit Shrek in 2001.
Mike returned Austin Powers to the screen again in 2002 with Austin Powers in Goldmember.
2003 wasn't the best critical year for Myers. He appeared in the oft-delayed View from the Top with Gwyneth Paltrow and The Cat in the Hat was also viewed as a failure.
In 2004, Myers once again voiced the lovable ogre in Shrek 2. The green character continued to generate cash for Myers as he revisted the character twice in '07 for the movie Shrek the Third and the Xmas TV special Shrek the Halls. That same year, he divorced his wife, Robin.
In 2008, Myers starred in The Love Guru opposite Jessica Alba and Justin Timberlake.
As time progresses, we'll have more info about Mike Myers here. If you have any comments or suggestions about our coverage, please email us.