Jessica Alba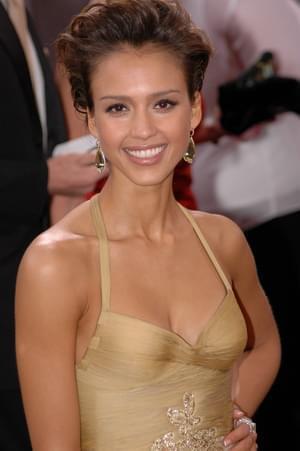 Check out our Jessica Alba photo gallery.
Born: Apr. 28, 1981 Pomona, California, USA
[Please note that we are recovering from a bad database backup and some of our bio entries might be a bit stale. We are baking up a fresh batch as soon as possible.]
Jessica Alba was born in Pomona, California, on April 28, 1981. Her Air Force father had the family relocate several times before they finally settled in Southern California when Jessica was nine.
Jessica thought she wanted to be an actress since the age of five and she mae her feature film debut in 1994's Camp Nowhere. She originally had a small role in the film, but when one of the leads dropped out, Jessica took over.
After filming some TV commercials, Jessica then landed a role on Nickelodeon's The Secret World of Alex Mack. She then landed the role of Maya on the remake of the TV series Flipper, a gig that lasted for two seasons.
Jessica followed that with guest appearances on Brooklyn South, Beverly Hills, 90210 and The Love Boat: The Next Wave before landing a role in 1999's P.U.N.K.S. with Randy Quaid. That same year had her appear in the Drew Barrymore comedy Never Been Kissed and the comedy-horror Idle Hands. (1999).
In 2000, Alba starred in the film Paranoid and also landed the starring role in the post-apocalyptic action series Dark Angel. Her series was cancelled after two seasons and Jessica then put her dance training to good use in the 2003 feature film Honey.
2005 had audiences focused on Jessica's career…and body…as she appeared in three features: Sin City, Fantastic Four, and Into the Blue.
2007 was a very busy year for Jessica's career and personal life. On the film side, she appeared The Ten, Fantastic Four: Rise of the Silver Surfer, Good Luck Chuck, Bill and Awake, while in her personal life, the end of the year saw her announce both a pregnancy and an engagement to boyfriend Cash Warren. She married him on May 19th, 2008 and the couple welcomed their daughter, Honor Marie Warren, on June 8th, 2008. That same summer, Jessica appeared in The Love Guru with Mike Myers.
Alba had quite a busy 2010. She appeared in The Killer Inside Me with Casey Affleck and Kate Hudson, the ensemble comedy Valentine's Day with Ashton Kutcher and Jessica Biel, Machete with Danny Trejo and Robert De Niro, An Invisible Sign with J. K. Simmons and Chris Messina and Little Fockers opposite Robert De Niro, Ben Stiller, Owen Wilson, Dustin Hoffman, Barbra Streisand, Blythe Danner and Teri Polo. The following year saw her in Spy Kids: All the Time in the World in 4D with Joel McHale.
As time progresses, we'll have more info about Jessica Alba here. If you have any comments or suggestions about our coverage, please email us.