Brendan Fraser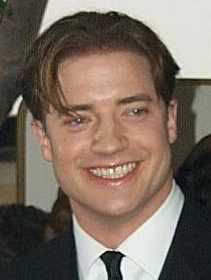 Check out our Brendan Fraser photo gallery.
Born: Dec. 3, 1968 Indianapolis, Indiana, USA
[Please note that we are recovering from a bad database backup and some of our bio entries might be a bit stale. We are baking up a fresh batch as soon as possible.]
Brendan Fraser's film, The Mummy, was not only a big hit, but also served to firmly place Brendan in the leading man category. The film's sequel, The Mummy Returns, broke box office records in 2001 by earning the biggest non-holiday weekend take, beating Star Wars: Episode I — The Phantom Menace.
Though Brendan had a classical training in theater, appearing in plays like A Midsummer Night's Dream, Arms and the Man, and Waiting for Godot his early film career was aimed more at the screaming girls demographic. His role in Gods and Monsters made him a candidate for more serious roles while The Mummy will show he can carry a big budget action flick
Brendan was raised in a variety of Canadian and European cities and had a taste for languages. His high school years were spent in Toronto, Canada, but college saw him heading west to study theatre at the Cornish College of the Arts in Seattle. After graduating Fraser landed roles at Seattle's Intiman Theater and the Laughing Horse Summer Theater in Ellensburg, Washington.
In early 1991, Brendan won a one-line part in a film and headed for California. The film was never released, but he was able to land roles in two made-for-TV movies: Guilty Until Proven Innocent and Child of Darkness, Child of Light. He also won a small role in the film Dogfight.
The beefcake roles started in 1992 when he landed the title role in the Pauly Shore flick Encino Man. Playing a caveman and working with artistically-challenged Shore didn't help his reputation as a serious actor. However he did have the respect of Paramount Pictures head Sherry Lansing and Fraser landed the role of a Jewish student on a boarding-school football scholarship in School Ties
Working to escape the Pauly Shore connection (he reprised the caveman role in cameo appearances in Son In Law and In the Army Now]) Fraser appeared in 1995's The Passion of Darkly Noon, where he played the disturbed orphan of religiously conservative parents. The critics liked his performance in this and Albert Brooks' comedy The Scout.
Still, simple-minded comedies haven't totally left Fraser's resume as evidenced by Fraser's roles in Airheads and George of the Jungle.
After making Bedazzled with Elizabeth Hurley, Brendan had failure and success in 2001 when Monkeybone died and The Mummy Returns flourished at the box office. The following year, Brendan worked with Michael Caine on The Quiet American and made the first of three guest appearances on the NBC series [scrubs].
After starring with Jenna Elfman in Looney Tunes: Back in Action, Fraser then appeared in Paul Haggis' Crash, whose ensemble cast featured Sandra Bullock, Don Cheadle, Matt Dillon, Chris Bridges, Terrence Howard and Jennifer Esposito. In 2006, he appeared with Mos Def in Journey to the End of the Night and The Last Time with Michael Keaton and the following year starred with Kevin Bacon and Andy Garcia in The Air I Breathe.
Fraser kept busy in 2008, appearing in Journey to the Center of the Earth and The Mummy: Tomb of the Dragon Emperor. He started 2009 with Inkheart.
Fraser, who was inducted into Canada's Walk of Fame in 2006, was married to Afton Smith from 1998 to 2008. They have three children.
As time progresses, we'll have more info about Brendan Fraser here. If you have any comments or suggestions about our coverage, please email us.