Hugh Grant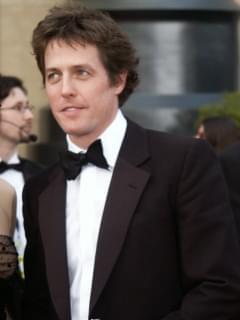 Check out our Hugh Grant photo gallery.
Born: Sept. 9, 1960 London, England, UK
[Please note that we are recovering from a bad database backup and some of our bio entries might be a bit stale. We are baking up a fresh batch as soon as possible.]
Women love his stuttering British charm so much, and think that he's so cute, that they seem to have forgiven, or forgotten, the fact that he was once arrested in LA for getting caught with a prostitute named Divine Brown. There are even those cynics amongst us who would believe the whole thing was a publicity stunt for his then movie Nine Months.
Grant was born in London on September 9th, 1960. He attended Oxford University and while there landed his first film job in 1982's Privileged. He followed that with work on British TV ([Jenny's War, The Last Place on Earth]) and theatre.
He made his way back on to the big screen again in 1987, appearing in the Merchant/Ivory film Maurice. The film was quite successful and Hugh appeared in several critically acclaimed films of the British cinema. He often played aristocratic roles and perhaps the aristocracy were the only people going to the films as they weren't always winners at the box office. Some of the highlights from that period include the Ken Russell film Lair of the White Worm, Impromptu, and Roman Polanski's erotic Bitter Moon. He again returned to the Merchant/Ivory stable when he appeared in 1993's Remains of the Day and received good notices for his work in Sirens.
He also managed to squeeze in some Stateside TV fare, working opposite Julie Andrews in the Judith Krantz mini-series 'Till We Meet Again.
1994. Kaboom. Grant exploded into international stardom when he appeared opposite Andie MacDowell in the English romantic comedy Four Weddings and a Funeral. The film was nominated for an Academy Award® and Grant won a Golden Globe for the Best Performance by an Actor in a Motion Picture – Comedy/Musical.
We move on to 1995. Hugh appeared in several movies including Restoration, An Awfully Big Adventure, The Englishman Who Went Up a Hill But Came Down a Mountain, Nine Months and Sense and Sensibility. All of that work was overshadowed by another picture of Hugh's: his arrest photo that was taken when he was caught with an LA hooker.
Then girlfriend Elizabeth Hurley forgave him enough to produce his next picture, Extreme Measures, in which he co-starred with Gene Hackman. Then again, maybe producing gave her a great chance to boss him around a bit…
Three years separated that film and Notting Hill with Julia Roberts. He then let Hurley produce him again, this time in Mickey Blue Eyes. On December 20th, 1999, Hugh was nominated for the 57th Annual Golden Globe Awards for his role in Notting Hill.
In an announcement made through their film company, Simian Films, on May 23rd, 2000, Hugh Grant and Elizabeth Hurley announced that they were splitting up after 13 years together. The statement went on to say that the decision was mutual and that no third parties were involved. 2000 wasn't all that bad though, as earlier in the year he did get to work with his idol, Woody Allen, in Small Time Crooks. He made Bridget Jones's Diary with Renee Zellweger and Colin Firth in 2001 and received great reviews for About A Boy in 2002 which earned him a Golden Globe nomination.
In 2002, Hugh lent his voice to Legend of the Lost Tribe and appeared with Sandra Bullock in Two Weeks Notice. The following year, he teamed up with Notting Hill director Richard Curtis on Love Actually, which co-starred Bill Nighy, Colin Firth, Liam Neeson, Keira Knightley, Martine McCutcheon, Laura Linney and Alan Rickman.
In 2004, Grant, Firth and Zellweger reteamed for Bridget Jones: The Edge of Reason. He played a Simon Cowell-esque character in 2006's American Dreamz and starred opposite Drew Barrymore in the 2007 romantic comedy Music and Lyrics.
As time progresses, we'll have more info about Hugh Grant here. If you have any comments or suggestions about our coverage, please email us.