Keira Knightley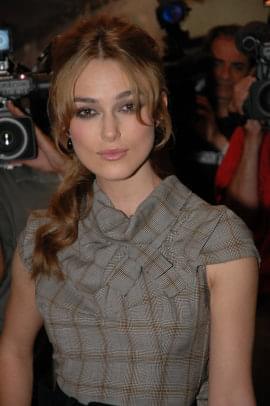 Check out our Keira Knightley photo gallery.
Born: Mar. 25, 1985 Teddington, Middlesex, England, UK
[Please note that we are recovering from a bad database backup and some of our bio entries might be a bit stale. We are baking up a fresh batch as soon as possible.]
Keira Knightley was born on March 25th, 1985 in Teddington, Middlesex, England. The child of two actors, Sharman Macdonald and Will Knightley, Keira had her TV debut in 1993's A Royal Celebration. Her film debut, A Village Affair, followed the next year.
Keira's first role in a mega-hit took place in 1999's Star Wars: Episode I – The Phantom Menace. She played Queen Amidala's decoy, Sabé, a role she was chosen for because of her close resemblance to actress Natalie Portman.
More films roles followed but audiences really noticed her in 2002's indie hit Bend It Like Beckham. The following year cemented her rising star status when she appeared opposite Johnny Depp and Orlando Bloom in the smash hit Pirates of the Caribbean: The Curse of the Black Pearl. From there, she appeared in Love Actually and King Arthur.
Keira's 2005 was quite busy, seeing the release of The Jacket, Domino, and Pride & Prejudice. The latter film earned her an Oscar® nomination for a Best Actress.
Keira, already a favourite of guys everywhere, turned heads when she appeared nude on the cover of Vanity Fair with fellow screen beauty, Scarlett Johansson.
The actress then starred in back to back sequels, reteaming with Orlando Bloom, Johnny Depp and Geoffrey Rush for Pirates of the Caribbean: Dead Man's Chest and Pirates of the Caribbean: At World's End in 2006 and 2007. 2007 also saw her appear in Silk and Atonement.
As time progresses, we'll have more info about Keira Knightley here. If you have any comments or suggestions about our coverage, please email us.