Elizabeth Hurley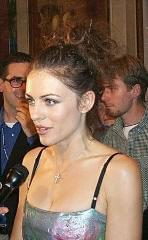 Check out our Elizabeth Hurley photo gallery.
Born: June 10, 1965 Hampshire, England, UK
[Please note that we are recovering from a bad database backup and some of our bio entries might be a bit stale. We are baking up a fresh batch as soon as possible.]
Elizabeth Hurley had devilish fun opposite Brendan Fraser in Bedazzled. Like most diamonds, Elizabeth Hurley is multi-faceted. One moment she's photographed in a revealing dress, then she's partially revealed lying naked on fur for a magazine shoot. One minute she's Austin Power's sexy sidekick, the next she's the producer of then-boyfriend Hugh Grant's Mickey Blue Eyes.
It was her relationship with Hugh that first got Hurley noticed in North America. While attending the premiere of Four Weddings and a Funeral with him, Elizabeth wore a dress that left little to the imagination, though imaginations were probably working overtime. She later became the "forgiving girlfriend" when Grant made the headlines after getting caught with an LA hooker, a move that didn't seem to hurt either's career. Hurley then became the Estee Lauder model and started appearing in every magazine.
She started off acting in a touring company, formed a dance troupe, and began making appearances on British TV. Her first feature role was in 1987's Aria which also marked her first onscreen nudity. She made a Spanish film, Rowing With The Wind, with Grant after that. Hurley began making films all over Europe then crossed the Atlantic to make her US debut in the Wesley Snipes action film Passenger 57.
She really caught the attention of audiences when she starred with Mike Myers in the spy-spoof Austin Powers: International Man of Mystery, a role that proved she could be both funny and terribly sexy. A hard-edged action film, Dangerous Ground, showed she could work on the dramatic side of the street as well.
We saw Ms. Hurley at the 1998 Toronto International Film Festival, where she was promoting Permanent Midnight. She also made My Favorite Martian and Ron Howard's EDtv.
On May 23rd, 2000, Hugh Grant and Hurley announced that their 13 year relationship was over. She began dating multi-millionaire Steve Bing and gave birth to a son, Damian Charles, in the spring of 2002. Bing then denied that he was the father, but paternity tests confirmed his parenthood.
Hurley's 2002 flick, Serving Sara was savaged by the critics.
As time progresses, we'll have more info about Elizabeth Hurley here. If you have any comments or suggestions about our coverage, please email us.