Philip Seymour Hoffman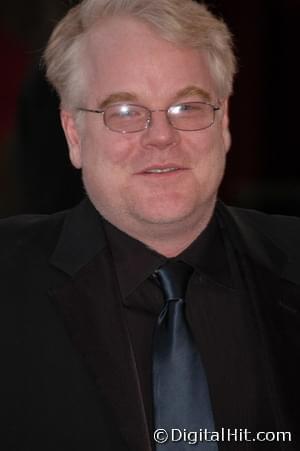 Check out our Philip Seymour Hoffman photo gallery.
Born: July 23, 1967 Fairport, New York, USA
Died: Feb 02, 2014
[Please note that we are recovering from a bad database backup and some of our bio entries might be a bit stale. We are baking up a fresh batch as soon as possible.]
You only have to see some of Philip Seymour Hoffman's work to realize that he is a versatile, seamless talent. Born July 23, 1967 in Fairport, New York, Hoffman graduated with a B.F.A. in drama from New York University's Tisch School of the Arts in 1989. A couple of years later, Hoffman would make his film debut in the indie movie Triple Bogey on a Par Five Hole.
In 1992, he found himself with supporting roles in three mainstream films: My New Gun starring Diane Lane and Stephen Collins, Leap of Faith starring Steve Martin and Debra Winger and Scent of a Woman starring Al Pacino and Chris O'Donnell. The next year, Philip was seen in Bob Balaban's My Boyfriend's Back and Money For Nothing starring John Cusack and Debi Mazar.
More supporting roles supported Hoffman's career in 1994 as he appeared in The Getaway starring Alec Baldwin and Kim Basinger, TV movie The Yearling with Peter Strauss and Jean Smart, When a Man Loves a Woman starring Meg Ryan and Andy Garcia and Nobody's Fool which starred Paul Newman, Jessica Tandy, Bruce Willis and Melanie Griffith.
The 1996 summer hit Twister had Hoffman working with Helen Hunt, Bill Paxton, Jamie Gertz and Cary Elwes. He gained a lot of critical attention for his role in 1997's Boogie Nights which starred Mark Wahlberg, Heather Graham, Julianne Moore, William H. Macy and Burt Reynolds. Hoffman portrayed the sad and lonely crew guy on the porn sets who had a huge crush on Dirk Diggler.
More memorable roles would appear over the next two years with roles in The Big Lebowski (starring Jeff Bridges, John Goodman and Julianne Moore), the lauded but disturbing Happiness with Jane Adams and Jon Lovitz, Patch Adams with Robin Williams and Monica Potter, playing a drag queen opposite Robert De Niro's homophobic character in Flawless, Magnolia again with Julianne Moore and William H. Macy, and The Talented Mr. Ripley which starred Matt Damon, Gwyneth Paltrow and Jude Law.
In 2000, Hoffman earned his first of two Tony nominations. His work in Sam Shepard's "True West" earned him a nod for best actor in a play. Also that year, he appeared David Mamet's State and Main with Alec Baldwin and Sarah Jessica Parker and Cameron Crowe's semi-autobiographical movie Almost Famous starring Billy Crudup, Jason Lee, Frances McDormand and Kate Hudson.
He then took a starring role in his brother Gordy Hoffman's writing debut Love Liza in 2002. He also appeared in Punch Drunk Love starring Adam Sandler and Emily Watson and Red Dragon with Anthony Hopkins and Edward Norton. The next year, he would earn his second Tony nomination with a best featured role in Eugene O'Neill's Long Day's Journey into Night. He was also onscreen in Owning Mahowny with Minnie Driver and Cold Mountain which starred Nicole Kidman, Jude Law, and Renée Zellweger.
Hoffman followed the not so great comedy Along Came Polly (with Ben Stiller, Jennifer Aniston and Debra Messing) with the critical hit Strangers with Candy starring Amy Sedaris.
His first Academy award nomination would accompany his first win with his performance as Truman Capote in 2005's Capote. The next year he opted for a big budget turn in the Tom Cruise vehicle Mission: Impossible III with Keri Russell, Ving Rhames, Billy Crudup, Michelle Monaghan and Jonathan Rhys Meyers.
In 2007, he appeared in Sydney Lumet's Before the Devil Knows You're Dead with Marisa Tomei, Ethan Hawke and Albert Finney, The Savages with Laura Linney, and Charlie Wilson's War which starred Tom Hanks and Julia Roberts.
In 2008, he appeared in Charlie Kaufman's Synecdoche, New York and in Doubt opposite Meryl Streep, Viola Davis and Amy Adams. The following year, he lent his voice to Mary & Max opposite Toni Collette, appeared in The Invention of Lying with Ricky Gervais and Jennifer Garner, and worked with Bill Nighy and Rhys Ifans on the comedy Pirate Radio.
He starred in and directed 2010's Jack Goes Boating and the following year worked with George Clooney and Ryan Gosling on The Ides of March and Brad Pitt and Jonah Hill on Moneyball.
He added two more great roles to his portfolio in 2012, working opposite Joaquin Phoenix and Amy Adams in The Master and with Christopher Walken and Catherine Keener on A Late Quartet.
He was introduced to a whole new genre of filmgoers when he played Plutarch Heavensbee in the franchise hit The Hunger Games: Catching Fire.
Philip Seymour Hoffman was found dead in his New York apartment on February 2nd, 2014, the victim of an apparent overdose. He had battled addiction before and had been clean for two decades. Sadly he had begun using again around 2012 and checked into rehab in 2013.
Hoffman had three children with girlfriend Mimi O'Donnell: son Cooper and daughters Tallulah and Willa.
As time progresses, we'll have more info about Philip Seymour Hoffman here. If you have any comments or suggestions about our coverage, please email us.