Keri Russell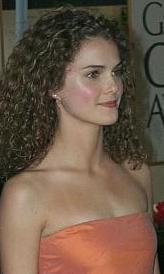 Check out our Keri Russell photo gallery.
Born: Mar. 23, 1976 Fountain Valley, California, USA
[Please note that we are recovering from a bad database backup and some of our bio entries might be a bit stale. We are baking up a fresh batch as soon as possible.]
Born on March 23rd, 1976 in Fountain Valley, California, Keri was the middle child of three siblings. While in junior high in Mesa, Arizona, she started to study dance. She toured the country with the Mesa Stars Dance and Drill team and eventually won several important dance scholarships. However, seen by a photographer at 15, Russell started on a modeling career.
The family moved to Denver and while there she appeared on Star Search. The folks at Disney noticed her and from 1991-1993 she was one of the new Mousketeers on the Disney Channel's All New Mickey Mouse Club. In 1992 she made her feature film debut in Honey I Blew Up the Kid.
With some good solid Disney work under her belt, Keri relocated to Los Angeles to work on her blossoming career. 1994 saw her land a role in the short-lived CBC sitcom Daddy's Girls. The failure of that show didn't really slow her down and in 1996 she won the title role in the NBC TV-movie The Babysitter's Seduction. 1996 also saw her land her first series lead when she was cast in Aaron Spelling's Malibu Shores.
That show was washed away by the ratings too and Keri headed back to feature films. She appeared Eight Days A Week which made the rounds of the festivals. She also appeared in another TV flick, When Innocence Is Lost. She closed off 1997 getting killed off in the pilot episode of the FOX series, Roar.
Russell had now been involved in three very short-lived TV projects, so she was holding out much hope for her new series, Felicity. She couldn't have been more wrong. Critics were going nuts for the show even before it had aired and the positive buzz even helped her third feature The Curve.
Felicity always seemed to have more buzz than ratings, and despite a core group of dedicated fans, the show was never a huge ratings hit. It was cancelled in 2002, a year that also saw Keri appear opposite Mel Gibson in We Were Soldiers.
In 2005, Keri appeared in The Upside of Anger with Joan Allen and Kevin Costner as well as the TV mini-series Into the West, which co-starred Josh Brolin and Skeet Ulrich. The following year, Keri appeared in the big budget action flick Mission: Impossible III opposite Tom Cruise.
In January 2007, Keri announced that she was expecting a child with fiance Shane Deary. The couple married on Valentine's Day 2007 and their son, River Russell Deary, was born on June 9th.
As time progresses, we'll have more info about Keri Russell here. If you have any comments or suggestions about our coverage, please email us.