Skeet Ulrich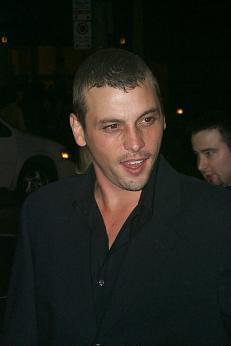 Check out our Skeet Ulrich photo gallery.
Born: Jan. 20, 1970 Concord, North Carolina, USA
[Please note that we are recovering from a bad database backup and some of our bio entries might be a bit stale. We are baking up a fresh batch as soon as possible.]
Skeet Ulrich was born on the January 20th, 1969. Though his given name was Bryan Ray, he was given the nickname Skeeter by a baseball coach who thought he was a skinny little mosquito. Skeet had some hard times in his youth. His parents divorced when he was three and he moved around a lot until his mother remarried when he as nine. He had always been a sickly child and after getting pneumonia several times, doctors finally discovered that he had a heart defect. At the age of ten, Skeet found himself having open-heart surgery.
Though still a skinny kid, Skeet started to get involved with sports. Besides playing baseball, he also became proficient on the soccer field. He was so good at that sport, in fact, that he was going to be offered a college scholarship. However, when he lost his temper at a game in front of the college scouts, the scholarship disappeared.
Still, Ulrich managed to get into the University of North Carolina at Wilmington, studying marine biology. He did some extra work in films like Teenage Mutant Ninja Turtles and, catching the acting bug, he sought ought a teacher. The guy he found, the owner of a local deli and an erstwhile actor, wasn't exactly Lee Strasberg. Skeet tells a funny story about the guy giving him a book of facial expressions to study. Having mastered "happy", "scared", "angry" and "thoughtful", Ulrich changed his major over to theater.
Throwing himself into his dramatic studies, Skeet transferred to NYU, where he ended up being asked by David Mamet to join his Atlantic Theater Company. He spent five years doing plays in New York and in 1994 landed his first TV gig in an ABC After School Special. The director, Stacy Cochran, later cast him with Winona Ryder in Boys.
1996 was the busy year for Skeet. He appeared in a total of five films including Scream, The Craft and Kevin Spacey's Albino Alligator. He got his first lead role a year later, playing a healing monk in Touch. He had a role in the comedy As Good As It Gets, appeared with Ethan Hawke and Matthew McConaughey in The Newton Boys, and did the action comedy Chill Factor with Cuba Gooding Jr. He also worked with director Ang Lee and co-stars Jewel and Tobey Maguire on Ride with the Devil.
In 2003, Skeet starred in the ABC drama series Miracles, which ran for 13 episodes. In 2005, he appeared in both the TV movie The Magic of Ordinary Days and the mini-series Into the West. He returned to series television in 2006, starring in the CBS show Jericho.
In 2009, he starred opposite Matt Dillon, Jean Reno and Laurence Fishburne in Armored. The following year, he landed the role of Detective Rex Winters in Law & Order: Los Angeles.
As time progresses, we'll have more info about Skeet Ulrich here. If you have any comments or suggestions about our coverage, please email us.