Kevin Spacey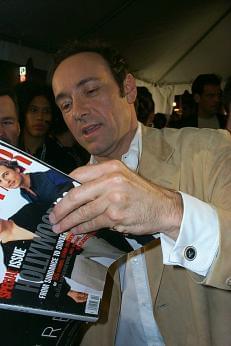 Check out our Kevin Spacey photo gallery.
Born: July 27, 1959 South Orange, New Jersey, USA
[Please note that we are recovering from a bad database backup and some of our bio entries might be a bit stale. We are baking up a fresh batch as soon as possible.]
Kevin Spacey was born in New Jersey on July 26th, 1959. The family moved to Southern California and the boisterous Spacey found himself sent off to a military academy. When that school couldn't tame him, he moved on to Chatsworth High School, where he met other future actors Mare Winningham and Val Kilmer.
Spacey caught the acting bug at Chatsworth and eventually made his way to the drama program at Juilliard. Two years into that program he left to work with the New York Shakespeare Festival as an apprentice actor and office help. After an appearance in Henry VII he was fired by the director, Joseph Papp, who hoped the move would force the young actor to move further into the acting world. In 1982, Spacey appeared opposite Liv Ullman in Ibsen's Ghosts and received critical raves for his Broadway debut.
In 1984, he found himself understudying all the male roles in Hurlyburly. Director Mike Nichols was so impressed by his versatility that he made sure he had a chance to play all of the roles during the run. After that he managed to land the lead role of National Anthems after Al Pacino dropped out and in 1986 starred opposite Jack Lemmon in the Broadway revival of Long Day's Journey Into Night.
Kevin made his film debut in 1986's Heartburn and made the leap to TV in 1987 when he starred as Mel Profitt in the crime drama Wiseguy. He was popular in that role and was able to steadily work in films like Working Girl, Henry and June, Glengarry Glen Ross and The Ref. Ever the chameleon, audiences saw him play a variety of characters in films like Swimming with Sharks, Seven, and The Usual Suspects, for which he won the Best Supporting Actor Oscar®.
In 1996, Kevin Spacey made his directorial debut working with Matt Dillon, Faye Dunaway and Skeet Ulrich in the festival favorite Albino Alligator. Following that he received critical raves for his work as a celebrity cop in L.A. Confidential and an accused murderer in Midnight in the Garden of Good and Evil. 1998 saw him range from a hostage negotiator in The Negotiator to the voice of a grasshopper in A Bug's Life.
Besides the buzz that greeted him at the 1999 Toronto International Film Festival for his role in American Beauty he also attended the festival to promote a smaller film, The Big Kahuna.
Critics and audiences alike went crazy for his performance as a suburban husband whose midlife crisis had him lusting after his daughter's teenage friend in American Beauty. That buzz culminated in an Oscar for Best Actor.
In 2000, he appeared with Helen Hunt and Haley Joel Osment in Pay It Forward and starred in K-PAX and The Shipping News in 2001.
As time progresses, we'll have more info about Kevin Spacey here. If you have any comments or suggestions about our coverage, please email us.