Tom Cruise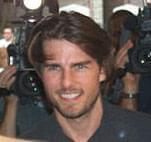 Check out our Tom Cruise photo gallery.
Born: July 3, 1962 Syracuse, New York, USA
[Please note that we are recovering from a bad database backup and some of our bio entries might be a bit stale. We are baking up a fresh batch as soon as possible.]
If nothing else, Tom Cruise will always be remembered for the lip-synching scene in Risky Business. Sure, he's done bigger more artistic work since then, but that one movie captured on film what every guy does when they have the house to themselves. Thanks, Tom.
Yes, Tom Cruise paid his dues in a few teen films, as teenage girls practiced their squeals to such flicks as Taps, All the Right Moves, and Losin' It. Not content to be just another handsome face, Cruise has worked with great older actors. You can't help but hone your craft when you work opposite Paul Newman (The Color of Money), Dustin Hoffman (Rain Man), and Jack Nicholson (A Few Good Men).
Cruise has also not been afraid to take on challenging roles. The first major sign of this was hiding his good looks behind the Lestat character in Interview with the Vampire. Though even the books author, Anne Rice, was against his casting at first, he eventually won her, the critics, and the public over with his portrayal.
Tom is able also able to work in lighter fare that fills the seats and sells the popcorn. He had a huge success with both Jerry Maguire and two Mission Impossible flicks.
His next big challenging role was in the much-anticipated Eyes Wide Shut in which he co-starred with his then-wife Nicole Kidman. The film took many months to shoot, but Tom says the lengthy production was an equitable trade-off given that he had the opportunity to work with late director Stanley Kubrick.
He also started to work as a producer. Robert Towne's Without Limits, starring Billy Crudup and Donald Sutherland, was a Tom Cruise/Paula Wagner production. He exhibited the film at the 1998 Toronto International Film Festival and we have photos and coverage of that gala and press conference.
On December 20th, 1999, Tom was nominated for the 57th Annual Golden Globe Awards for his role in Magnolia. He won the award on January 23rd. His Magnolia role, a supporting one, also earned him an Oscar® nomination. The winner of the award, Michael Caine, joked that Tom should be careful taking supporting roles, asking him "Do you have any idea how much we make?"
Tom and Nicole announced their separation on February 5th, 2001. Two days later, he filed for divorce. The divorce went through in August 2001. Tom hit the town with his new girlfriend, actress Penelope Cruz. The couple met while filming Vanilla Sky.
Tom returned to the big action flick with the summer of 2002's Minority Report, directed by Steven Spielberg. The action theme continued in 2003 as Tom appeared as an American mercenary in Japan in The Last Samurai.
Cruise's three-year relationship with Penelope Cruz ended in March of 2004. That same year he appeared in Michael Mann's Collateral opposite Jamie Foxx. He also appeared on the Foxx-hosted ESPY Awards, where he paid tribute to Pat Tillman, the Arizona Cardinals player who left the NFL after 9/11 and then was killed while serving in Afghanistan.
Publicists for Cruise and Katie Holmes announced the pair were an item in April 2005. Weeks later, Katie announced she was converting to Tom's religion of Scientology. The media frenzy around the couple was amplified by Tom's behavior at the time. Besides the famous Oprah couch hopping incident, when a very enthusiastic Cruise professed his love for Holmes, there was also the increased discussion about his religious beliefs. Discussions about Tom's involvement with Scientology were always strictly controlled by his former publicist, Pat Kingsley. When he dropped her, the floodgates opened.
In a June 2005 interview with Access Hollywood's Billy Bush, Cruise discussed Scientology's stance on psychiatry and drugs and criticized Brooke Shields for her use of drugs to battle post-natal depression adding, "…where has her career gone?" When confronted about his comments by Matt Lauer on The Today Show, Cruise told him that "You don't know the history of psychiatry. I do." When Lauer mentioned that many people had been helped by drugs like Ritalin, a clearly angry Cruise responded, "You're glib. You don't even know what Ritalin is."
Cruise and Holmes became engaged in June 2005 and announced that Katie was pregnant in October of that year. Their daughter, Suri, was born on April 18th, 2006.
In May of 2006, Cruise once again played Ethan Hunt in Paramount's Mission: Impossible III. The film did not perform as well as expected and many pundits pointed to people's reactions to the events of the past year. Those reactions made their way to the business world as well, when Paramount did not renew its deal with Cruise's production company in August 2006. Sumner Redstone, whose Viacom owns Paramount, said that, "As much as we like him personally, we thought it was wrong to renew his deal. His recent conduct has not been acceptable to Paramount."
Cruise and producing partner Paula Wagner later announced a new funding deal with Washington Redskins owner Daniel M. Snyder.
In November 2006, Wagner and Cruise announced that they would be in charge of a revitalized United Artists studio. The studio's first new film, Lions for Lambs, starred Cruise, Meryl Streep and Robert Redford, who also directed. The film opened in 2007 to generally poor reviews and did little business at the box office. Cruise also appeared in Valkyrie, based on the July 20, 1944 assassination attempt against Adolf Hitler.
Tom's personal life once again overshadowed his career in January of 2008, when internal Scientology videos showing a very intense Cruise surfaced on the internet. That same month also saw the release of a controversial biography of the actor written by Andrew Morton. In the summer of 2008, Cruise did a funny turn as a producer in the comedy Tropic Thunder with Ben Stiller, Jack Black and Robert Downey Jr.. The film earned Cruise a Golden Globes nomination for Supporting Actor.
Cruise entered the second decade if the 2000s working with Cameron Diaz in the 2010 action-comedy Knight and Day. The following year he appeared in the fourth edition of the MI franchise, working with Jeremy Renner, Simon Pegg and Paula Patton in Mission: Impossible: Ghost Protocol.
2012 saw Tom Cruise facing his first musical…and his third divorce. Rock of Ages, with Alec Baldwin, Catherine Zeta-Jones and Russell Brand came out in June and in that same month, Katie Holmes filed for divorce. He ended the year working opposite Rosamund Pike and Richard Jenkins in the action film Jack Reacher.
Cruise's next two projects were sci-fi films. 2013's Oblivion with Morgab Freeman and Olga Kurylenko and 2014's Edge of Tomorrow with Emily Blunt.
As time progresses, we'll have more info about Tom Cruise here. If you have any comments or suggestions about our coverage, please email us.