Katie Holmes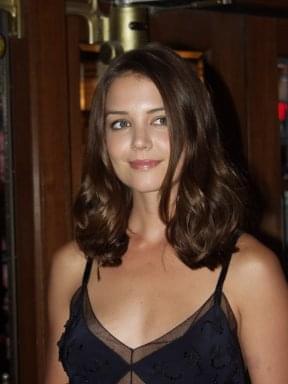 Check out our Katie Holmes photo gallery.
Born: Dec. 18, 1978 Toledo, Ohio, USA
[Please note that we are recovering from a bad database backup and some of our bio entries might be a bit stale. We are baking up a fresh batch as soon as possible.]
Born Katherine Noelle Holmes in Toledo, Ohio on December 18th, 1978, Katie is the youngest of five children in her close-knit family.
While at a modeling convention in New York City, Katie was approached by an agent who convinced her to give the L.A. audition scene a try. Heading off to Hollywood with her mother, Katie's first audition landed her the role of Libbets Casey, Tobey Maguire's love interest in Ang Lee's 1997 film The Ice Storm.
Landing her next big role is the stuff of Hollywood legends. When asked to audition for the role of Joey Potter on Dawson's Creek, Katie had to decline due to a previous commitment: starring as Lola in her school's production of Damn Yankees. Show creator Kevin Williamson had seen her on tape and wanted her for the role. They rescheduled the audition and the rest is history.
While Dawson's Creek made Katie Holmes a household name, her film work has solidified her as a major young player in Hollywood. In 1998, she starred in Disturbing Behavior opposite James Marsden, playing a very different character than we were used to seeing. In 1999, she filmed Go with Sarah Polley and Teaching Mrs. Tingle with Barry Watson and Helen Mirren. In this time, she started dating Chris Klein of American Pie fame.
Her next film, 2000's Wonder Boys, brought Tobey Maguire and Katie together again opposite Michael Douglas and Robert Downey Jr. That same year, Katie's role as Jessica King in The Gift (with Cate Blanchett, Greg Kinnear and Giovanni Ribisi) was a turn as far away from Joey Potter as one could imagine. It was also the first time Katie appeared nude in a film.
In 2002, Katie made the thrillers Abandon with Benjamin Bratt and Phone Booth with Colin Farrell and Keifer Sutherland. Dawson's Creek's run ended in 2003 and Katie's next role was to star in the dark comedy indie flick Pieces of April where she plays a young woman cooking Thanksgiving dinner for her family and dealing with her sick mother. Also that year she made The Singing Detective with Robert Downey Jr. She ended 2003 with a marriage proposal from boyfriend Chris Klein.
In 2004, Katie appeared with Michael Keaton in the fluffy First Daughter. Her engagement to Chris Klein ended as the couple announced their split in March 2005. That same year, Holmes appeared in Batman Begins with Christian Bale.
Publicists for Holmes and Tom Cruise announced the pair were an item in April 2005. Weeks later, Katie announced she was converting to Tom's religion of Scientology. They became engaged in June 2005. They announced that Katie was pregnant in October of that year. Their daughter, Suri, was born on April 18, 2006. That same year, Katie was seen opposite Aaron Eckhart in Thank You for Smoking, which had played festivals the year before.
In 2008, after a two-year break, Holmes appeared onscreen with Queen Latifah and Diane Keaton in Mad Money. In 2010, she made The Romantics with Josh Duhamel and Anna Paquin, The Extra Man with Kevin Kline and John C. Reilly. In 2011, she was seen on the big screen in Don't Be Afraid of the Dark and Jack and Jill (with Adam Sandler) and on the small screen playing Jackie Kennedy to Greg Kinnear's JFK in the mini-series The Kennedys.
In 2012, Katie Holmes' biggest move was filing divorce from her husband of five years, Tom Cruise.
As time progresses, we'll have more info about Katie Holmes here. If you have any comments or suggestions about our coverage, please email us.