Queen Latifah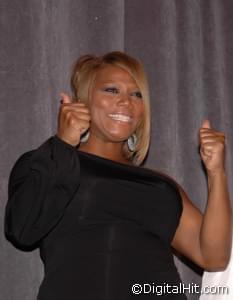 Check out our Queen Latifah photo gallery.
Born: Mar. 18, 1970 Newark, New Jersey, USA
[Please note that we are recovering from a bad database backup and some of our bio entries might be a bit stale. We are baking up a fresh batch as soon as possible.]
Queen Latifah was born Dana Owens on March 18, 1970. Her cousin nicknamed her Latifah, which is Arabic for "delicate and sensitive".
Queen Latifah came to the world of showbiz via music. Latifah's music was a combination rap, jazz and soul. In 1995, she won a Grammy for her song "U.N.I.T.Y."
Latifah's feature film debut was a bit part in 1991's Jungle Fever. She followed that with small parts in House Party 2 (1991) and Juice (1992).
The following year would prove to be a good one when Latifah was cast alongside Erika Alexander, Kim Coles and Kim Fields in the TV series Living Single, which ran from 1993 to 1998.
She played a nurse in her next film, 1993's My Life, which starred Michael Keaton and Nicole Kidman. She followed that with 1996's Set It Off, which had her working with Jada Pinkett Smith, Vivica A. Fox and Kimberly Elise. She then worked with Laurence Fishbourne, Tim Roth, Vanessa L. Williams and Andy Garcia on 1997's Hoodlum. Not missing a beat, Latifah then did the movie Sphere, which had her working opposite Hollywood heavyweights Dustin Hoffman, Sharon Stone and Samuel L. Jackson. 1998 also saw her appear with Danny DeVito and Holly Hunter in Living Out Loud and in the TV movie Mama Flora's Family, which starred Cicely Tyson, Erika Alexander, Blair Underwood and Mario Van Peebles.
In 1999, she co-starred with Denzel Washington and Angelina Jolie in The Bone Collector. She then appeared in the 2002 mini-series Living with the Dead which was directed by Stephen Gyllenhaal and starred Ted Danson, Mary Steenburgen and Diane Ladd. She also appeared in Brown Sugar, starring Taye Diggs and Sanaa Lathan. The big news for the Queen also occurred in 2002, when she played Mama Morton in the film version of the musical Chicago. Working with Renée Zellweger, Catherine Zeta-Jones and Richard Gere, Latifah was nominated for an Academy Award® for her portrayal.
In 2003, Latifah had a huge comedy hit playing opposite Steve Martin in Bringing Down the House, a year that also saw her act in the Wayans brothers' Scary Movie 3.
In 2004, she was seen in Barbershop 2: Back in Business opposite Ice Cube and Cedric the Entertainer. Her role was spun off into a new film, Beauty Shop. 2004 also saw her appear in Taxi and The Cookout.
In 2005, Latifah starred in Beauty Shop and played Aunt Em in The Muppets' Wizard of Oz. She then voiced Ellie the mammoth in 2006's Ice Age: The Meltdown and starred in that year's Last Holiday with LL Cool J and Timothy Hutton and Stranger Than Fiction with Will Ferrell, Dustin Hoffman, Maggie Gyllenhaal and Emma Thompson. The following year, she appeared in Life Support, played Motormouth Maybelle in Hairspray with John Travolta, Nikki Blonsky and Zac Efron and played Mrs. Christmas in The Perfect Holiday with Morris Chestnut and Gabrielle Union.
A busy 2008 saw Queen in Mad Money with Katie Holmes and Diane Keaton, taking a small role in the Cameron Diaz/Ashton Kutcher stinker What Happens in Vegas, and anchoring the cast of The Secret Life of Bees with Dakota Fanning, Alicia Keys and Jennifer Hudson.
As time progresses, we'll have more info about Queen Latifah here. If you have any comments or suggestions about our coverage, please email us.