Zac Efron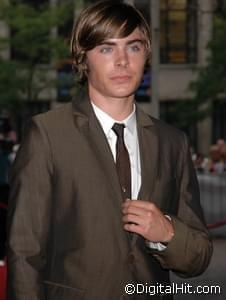 Check out our Zac Efron photo gallery.
Born: Oct. 18, 1987 San Luis Obispo, California, USA
[Please note that we are recovering from a bad database backup and some of our bio entries might be a bit stale. We are baking up a fresh batch as soon as possible.]
Zachary David Alexander Efron was born on October 18th, 1987 in San Luis Obispo, California. Zac began performing at an early age. His singing lessons paid off and he began performing on stage in productions of Gypsy, Peter Pan, Auntie Mame, Little Shop of Horrors and The Music Man.
He then shifted his focus to TV and began landing guest spots on shows. His TV debut was in 2002 on the series Firefly. He also appeared on ER with Noah Wyle, Maura Tierney and Goran Visnjic, The Guardian with Simon Baker and CSI: Miami with David Caruso.
Efron also appeared in TV movies like 2003's The Big Wide World of Carl Laemke and 2004's Miracle Run with Mary-Louise Parker and Aidan Quinn. A guest-starring role on Summerland with Lori Loughlin and Jesse McCartney gained so much attention that it turned into a series regular gig for Efron. After the cancellation of the show, more TV worked followed with the movie If You Lived Here, You'd Be Home Now, a spot on Navy NCIS: Naval Criminal Investigative Service with Mark Harmon and the Disney show The Suite Life of Zack and Cody.
It was his next Disney project that would make Efron a household name. High School Musical, a 2006 TV movie which also starred Vanessa Hudgens and Ashley Tisdale, became an instant hit among the 'tween crowd and their parents. From there, Efron went on to star in the 2007 musical film version of Hairspray opposite John Travolta, Queen Latifah, Michelle Pfeiffer, Amanda Bynes and Nikki Blonsky. A sequel to High School Musical, the aptly-named High School Musical 2, was a huge cable hit. A theatrical release, High School Musical 3: Senior Year, headed for theatres in 2008.
As time progresses, we'll have more info about Zac Efron here. If you have any comments or suggestions about our coverage, please email us.