Will Ferrell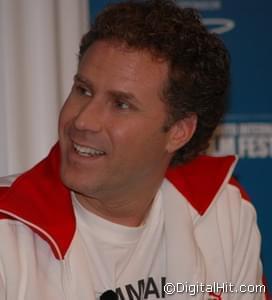 Check out our Will Ferrell photo gallery.
Born: July 16, 1967 Irvine, California, USA
[Please note that we are recovering from a bad database backup and some of our bio entries might be a bit stale. We are baking up a fresh batch as soon as possible.]
Will Ferrell was born in Irvine, California on July 16th, 1967. He became interested in performing in high school. After graduating from the University of California he joined the comedy troupe The Groundlings where he met good friend, Chris Kattan. The pair headed of to Saturday Night Live where Ferrell became a regular in 1995.
He made several guest appearances on TV shows and made his feature film debut in 1997's Men Seeking Women. That same year he also appeared in Austin Powers: International Man of Mystery with Mike Myers, Elizabeth Hurley and Robert Wagner.
The next year, Ferrell and Kattan took a pair of their SNL sketch characters to the big screen in A Night at the Roxbury. 1999 would prove to be a busy year for Will as he appeared in The Suburbans with Jennifer Love Hewitt, Austin Powers: The Spy Who Shagged Me with Mike Myers and Heather Graham, Dick with Michelle Williams and Kirsten Dunst, and Superstar, a film based on one of Molly Shannon's SNL characters.
Ferrell went into 2000 with Drowning Mona, which starred Danny DeVito, Neve Campbell and Bette Midler and The Ladies Man another SNL film this time based on a Tim Meadows character. The next year, he appeared in Kevin Smith's Jay and Silent Bob Strike Back and the Ben Stiller comedy Zoolander.
Ferrell left SNL in 2002. The next year, he ensured himself an annual holiday screening when he starred in Jon Favreau's Elf which had him working opposite James Caan, Bob Newhart and Zooey Deschanel. He then wrote and starred in 2004's Anchorman: The Legend of Ron Burgundy with Christina Applegate and Paul Rudd before appearing in Woody Allen's Melinda and Melinda.
Ferrell kept busy again in 2005, appearing in The Wendell Baker Story with Luke Wilson, Kicking & Screaming with Robert Duvall, Bewitched opposite Nicole Kidman, Winter Passing with Zooey Deschanel and The Producers, a film version of the musical with Nathan Lane, Matthew Broderick and Uma Thurman.
In 2006, he wrote and starred in Talladega Nights: The Ballad of Ricky Bobby which teamed him with John C. Reilly, Leslie Bibb and Michael Clark Duncan and also starred in Stranger Than Fiction with Emma Thompson and Dustin Hoffman.
In 2007, he donned skates in Blades of Glory. After the 2008 sports comedy Semi-Pro, he teamed up with John C. Reilly once again for Step Brothers.
2009 saw Ferrell stumble with the box office flop Land of the Lost. He had a busy 2010, working opposite Mark Wahlberg in the buddy cop comedy The Other Guys, starring with Rebecca Hall and Laura Dern in Everything Must Go and voicing the title character in Megamind with Tina Fey and Brad Pitt.
In 2011, Ferrell did a four episodes arc on NBC's The Office as Michael Scott's temporary replacement Deangelo Vickers.
He has been married to Viveca Paulin since 2000.
As time progresses, we'll have more info about Will Ferrell here. If you have any comments or suggestions about our coverage, please email us.