Neve Campbell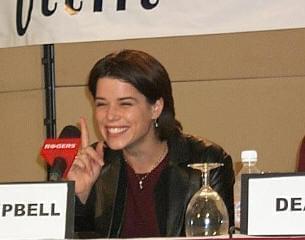 Check out our Neve Campbell photo gallery.
Born: Oct. 3, 1973 Guelph, Ontario, Canada
[Please note that we are recovering from a bad database backup and some of our bio entries might be a bit stale. We are baking up a fresh batch as soon as possible.]
Canadian-born Neve Campbell first caught the public's attention starring in the wildly-successful Toronto production of Andrew Lloyd-Webber's The Phantom of the Opera, where she was the youngest member of the cast. A TV role in the musical show Catwalk soon followed. She was now on people's radar…
It was the TV series Party of Five (1994-2000) that made her a household name and Scream (1996) and Scream II (1997) that made her a star. Her 1998 movie Wild Things received a lot of press and we're sure a busy PR team was behind the headlines announcing that she portrayed three-way sex in the movie with co-stars Matt Dillon and Denise Richards.
At the time, Neve had a no-nudity clause. Too bad she didn't have a no-disco clause. Reviews for her disco-era film, 54, were generally quite poor. The ads heavily featured Neve, but most people were surprised to find out that her role was quite small.
Neve also branched into producing. A film called Hair Shirt, which she co-produced with her brother, Christian, was at the 1998 Toronto International Film Festival and Neve was back in her old stomping grounds for the Sept. 10-19th festival. The film was later released on video as Too Smooth.
Neve once told Jane Magazine that she couldn't wait until her Party of Five contract was up in April 2000. After five years, she wanted her life back and the opportunity to make more films. Though the Scream franchise did well, films like 1999's Three to Tango and 2000's Drowning Mona didn't fare too well with the public or the critics.
Much of her work since then, including her self-produced and Robert Altman-directed The Company, have failed to generate the same heat that she once had. Neve's no-nudity clause disappeared when she worked with director James Toback on the 2004 film When Will I Be Loved.
She worked with her brother, Christian, and Kristen Bell on 2005's Reefer Madness: The Movie Musical. She then appeared with Danny DeVito and Kathy Bates in Relative Strangers and the followed that up with Partition. After I Really Hate My Job, Neve appeared in Closing the Ring and a few episodes of the series Medium. In 2008, she appeared two mini-series, Sea Wolf and Burn Up.
Neve also signed up to get scared again in Scream 4 in 2001. That same year, she appeared The Glass Man. 2012 saw Campbell as Joanna Yaegar in six episodes of Titanic: Blood and Steel and as Lizzie Shepherd in two episodes of Grey's Anatomy. In 2013, she starred opposite her brother Christian in An Amish Murder.
2014 saw Campbell in the movie Walter and the TV series Mad Men.
Neve married actor John Light on May 5th, 2007 and filed for divorce on June 30th, 2010. It was Neve's second marriage. She met actor Jeff Colt while he was a bartender at Toronto's Pantages Theatre and she was in The Phantom of the Opera. The pair were married from 1995 to 1998.
As time progresses, we'll have more info about Neve Campbell here. If you have any comments or suggestions about our coverage, please email us.