Heather Graham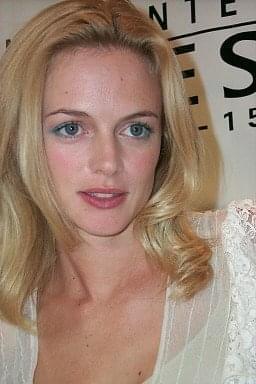 Check out our Heather Graham photo gallery.
Born: Jan. 29, 1970 Milwaukee, Wisconsin, USA
[Please note that we are recovering from a bad database backup and some of our bio entries might be a bit stale. We are baking up a fresh batch as soon as possible.]
Heather Graham was born on January 29th, 1970 in Milwaukee, Wisconsin, but she moved from city to city growing up as the family followed her father wherever his FBI job landed him. Her first acting experience was playing Dorothy in a stage production of The Wizard of Oz. She kept acting throughout high school, and with her parents' support and her senior class' "Most Talented" vote, she started auditioning in L.A. She decided it was time to pursue her dreams full-time and moved to L.A. on her own.
Her feature-film debut was the terribly forgettable License to Drive in 1988. She made up for that film by landing a role in Gus Van Sant's Drugstore Cowboy. The critics loved her performance as a strung-out teenager but she had trouble finding work for a while after that and she enrolled at UCLA as an English major. At the end of her sophomore year she dropped out to resume acting.
In 1990 she appeared opposite Kevin Kline in Lawrence Kasdan's I Love You to Death. She won a recurring role in David Lynch's TV series, Twin Peaks, but her next few movies, including the film adaptation Twin Peaks: Fire Walk With Me and the musical Shout (with co-stars John Travolta and Gwyneth Paltrow) were critically savaged.
Heather not only landed a role in 1992's Diggstown, she also landed a boyfriend. For half a year she was seen on the arm of co-star James Woods, who was twice her age at the time. She followed that performance with roles in Six Degrees of Separation, Even Cowgirls Get the Blues, and Mrs. Parker and the Vicious Circle.
Her career really started to rocket when her friend Jon Favreau offered her a role in his indie hit Swingers. She REALLY caught the attention of audiences when she disrobed down to her roller skates as the porn actress Rollergirl in Boogie Nights opposite Mark Wahlberg. She followed that with appearances in Scream 2 with Neve Campbell and Two Girls and a Guy.
1998 saw her make the forgettable film version of Lost in Space. Though the audience forgot it quickly, Heather remembers it as the film where she met another boyfriend, director Stephen Hopkins.
She had a great summer in 1999, appearing with Mike Myers in Austin Powers: The Spy Who Shagged Me, and in Bowfinger opposite Eddie Murphy and Steve Martin. The summer of 2000 saw her star in Committed.
She followed that up with Say It Isn't So and From Hell in 2001 and Sidewalks of New York, with ex-boyfriend Ed Burns, in 2002. That same year, Heather also appeared in Alien Love Triangle with Kenneth Branagh, Killing Me Softly with Joseph Fiennes, and The Guru with Jimi Mistry.
In 2003, Heather appeared with Minnie Driver and Colin Firth in Hope Springs. The following year she was in Blessed with James Purefoy. 2004 also saw her play a recurring role on the NBC series Scrubs.
In 2005, she starred in Cake with Taye Diggs and Sandra Oh and Mary with Juliette Binoche and Forest Whitaker. The following year, Graham appeared in Bobby which had a large ensemble cast featuring Anthony Hopkins, Helen Hunt, Joshua Jackson, Ashton Kutcher, Shia LaBeouf, Lindsay Lohan, William H. Macy, Demi Moore and Martin Sheen.
Heather starred in the exceedingly short-lived TV series Emily's Reasons Why Not which was cancelled after the airing of its first episode in 2006.
A busy 2009 say her work opposite Jennifer Coolidge in ExTerminators, with Jerry O'Connell and John Corbett in Baby on Board and with Alan Cumming and Gillian Anderson on Boogie Woogie. That same year also saw her in the monster comedy hit The Hangover, where she worked with Zach Galifianakis, Bradley Cooper and Ed Helms.
A quiet 2010 (she worked with Kevin Spacey on Father of Invention) led to a much busier 2011. In that year, she appeared with Lang Lang in The Flying Machine, did an appearance on the sketch comedy show Portlandia, worked with Bob Odenkirk on Son of Morning, appeared with Rupert Friend and Emmanuelle Chriqui in the action film 5 Days of War, and starred in Judy Moody and the Not Bummer Summer.
2012 saw Graham appear with Ashley Hinshaw and James Franco in Cherry and work with Dennis Quaid and Zac Efron on At Any Price. The following year, she reunited with the guys for The Hangover III, starred with Carrie-Anne Moss in Compulsion and appeared in Horns with Daniel Radcliffe.
In 2014, she appeared in two TV movies with Ellen Burstyn, Flowers in the Attic and Flowers in the Attic 2: Petals on the Wind. She had a nine episode arc on Californication with David Duchovny and appeared in the movies Goodbye to All That and Behaving Badly.
As time progresses, we'll have more info about Heather Graham here. If you have any comments or suggestions about our coverage, please email us.