David Duchovny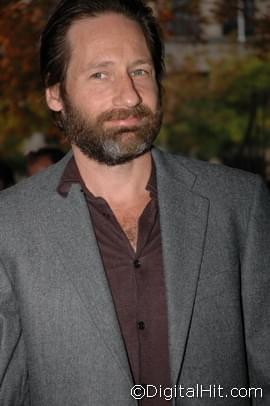 Check out our David Duchovny photo gallery.
Born: Aug. 7, 1960 New York, New York, USA
[Please note that we are recovering from a bad database backup and some of our bio entries might be a bit stale. We are baking up a fresh batch as soon as possible.]
David Duchovny was the popular male half of the FBI team on The X-Files. His character, Special Agent Fox Mulder, worked with his partner Dana Scully (Gillian Anderson) to try to solve forgotten cases that have a paranormal connection.
David's own life has been a little paranormal. He earned a BA at Princeton, an MA at Yale and almost had his PhD in English literature when the siren call of acting became too strong. He had a wild role in Twin Peaks, where he played Dennis/Denise Bryson, a transvestite FBI agent. Several film roles including Chaplin and Beethoven have also graced his bio, but it was the 1993 debut of The X-Files that garnered him huge public attention. His handsome appearance and strong but vulnerable character have gained him a legion of fans. Just like Gillian Anderson, David has his share of online fans too, as evidenced by his many fan sites.
On December 17th, 1998, David was nominated for a Golden Globe Award. Though he didn't win, we did manage to get a few photos of him.
In August of '99, David sued the makers of The X-Files, the 20th Century Fox Film Corp., claiming that they had hurt his profit sharing by selling the show to associated companies at below-market prices.
Testing the film waters outside the paranormal world, David appeared opposite Minnie Driver in the romantic comedy Return to Me.
The Fox lawsuit was settled as part of a new contract that brought David aboard for the eighth season of The X-Files. His new contract stipulated that he only had to appear in half the shows. He left before the ninth season and in 2001 appeared in the comedy Evolution.
In 2002, David appeared in Steven Soderbergh's Full Frontal with Julia Roberts and Blair Underwood and followed that with a role in 2004's Connie and Carla with Nia Vardolos and Toni Collette. In 2005, he appeared in Trust the Man which also starred Julianne Moore, Billy Crudup and Maggie Gyllenhaal. That was followed by 2007's Things We Lost in the Fire with Halle Berry and Benicio Del Toro.
2007 also saw Duchovny land the lead in the new series Californication. Though 2008 saw the release of the second X Files movie, The X Files: I Want to Believe, the big story in 2008 involved David checking into rehab for "sex addiction."
As time progresses, we'll have more info about David Duchovny here. If you have any comments or suggestions about our coverage, please email us.