Minnie Driver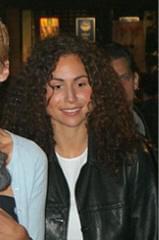 Check out our Minnie Driver photo gallery.
Born: Jan. 31, 1970 London, England, UK
[Please note that we are recovering from a bad database backup and some of our bio entries might be a bit stale. We are baking up a fresh batch as soon as possible.]
The girlfriend. A role that has seemed to define Minnie Driver's personal and screen personas. She's been on screen as the girlfriend in Tarzan, Good Will Hunting, and Grosse Pointe Blank and she was publicly linked to her former co-stars John Cusack and Matt Damon. However, this focus on that aspect of her life and career shortchanges a terribly talented actress with a great gift for characters and accents.
Born in London, Minnie studied acting at the Webber-Douglas Academy of Dramatic Art. She was lucky enough to find jobs on stage and British TV right after getting her drama degree in 1991, including a guest appearance on the ol' A&E staple Lovejoy. She also worked as a jazz vocalist in London's club scene to help make ends meet.
1995 was a good year for Minnie. She landed a large role in the BBC mini-series The Politician's Wife. She also fought for, and won, the role of Benny in director Pat O'Connor's Circle of Friends. Though she got to star with Chris O'Donnell in the flick, she had to gain over twenty pounds to play the character. She lost that weight in time to appear as Irina, the Russian country-western lounge singer (?!?) in the Bond film Goldeneye. She was able to cross the Atlantic at that point and appeared with Robert De Niro and Brad Pitt in Sleepers. 1996 also saw her appearing in Stanley Tucci's Big Night.
Moving on to 1997, Minnie Driver had an unusual back-to-back. She received critical notice for her role in Grosse Pointe Blank and had the romantic attentions of the film's writer, John Cusack. She followed that film with an Oscar®-nominated performance in Good Will Hunting and a romance with that film's writer, and her co-star, Matt Damon. The break-up of that relationship was a little messy as she found out that she had been dumped by Matt during an interview he gave on Oprah. Single for that year's awards, Minnie showed up in a red dress that wowed the audience.
Minnie followed that role up with a performance in the forgettable Christian Slater vehicle Hard Rain. Though the film was all wet, she did manage to add a few bucks to her bank account. She attended the 1998 Toronto International Film Festival with a film she co-produced, At Sachem Farm and also appeared in the art-house film The Governess.
We heard and saw Minnie Driver in two films in the summer of 1999. Minnie performed the voice of Jane in Disney's animated feature Tarzan and also appeared opposite Rupert Everett in An Ideal Husband. Hello! magazine reported that she was engaged to actor Josh Brolin, but she later denied the story saying that never sat down to do an interview with them. However, the story did become true in April of 2001 when Minnie confirmed the engagement through a release from her publicist. They broke up later that year.
In 2000, Minnie came to the Toronto International Film Festival with a film she co-produced, Beautiful. Unfortunately, the reviews were ugly.
In 2003, Minnie appeared in the Canadian film Owning Mahony, which also starred Philip Seymour Hoffman. That same year she also worked with Colin Firth and Heather Graham in Hope Springs and played Karen's nemesis in several episodes of the TV series Will & Grace.
2004 saw her work with Anne Hathaway in Ella Enchanted and also play the opera diva Carlotta in movie version of Andrew Lloyd Webber's The Phantom of the Opera.
Minnie kept herself busy in '06 and '07, working on the films The Virgin of Juarez, Delirious, Take, and Ripple Effect. She also worked with comedian Eddie Izzard on the FX TV series The Riches and also did voice work on The Simpsons Movie. In 2009, she appeared in Motherhood with Uma Thurman.
As time progresses, we'll have more info about Minnie Driver here. If you have any comments or suggestions about our coverage, please email us.