Robert De Niro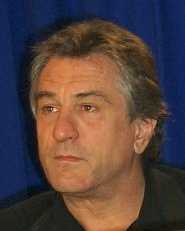 Check out our Robert De Niro photo gallery.
Born: Aug. 17, 1943 New York, New York, USA
[Please note that we are recovering from a bad database backup and some of our bio entries might be a bit stale. We are baking up a fresh batch as soon as possible.]
When it was announced that Robert De Niro's new film, Men of Honor, would be having its world premiere at the 25th Toronto International Film Festival, we were pretty pleased at Digital Hit. A world premiere. A gala screening. A rare chance to see De Niro on the red carpet and at the press conference. Will we learn something about De Niro's work and role in this film? Yes. Will we learn something about De Niro's life? No. And that's the way he likes it.
De Niro believes that his personal life is just that, personal, and has nothing to do with and detracts from his work as an actor. This reticence also helps us forget about De Niro and think about his characters. So we know him as Bruce Pearson from Bang the Drum Slowly, Vito Corleone from The Godfather II, Travis Bickle from Taxi Driver, Jake La Motta from Raging Bull, and unfortunately as Fearless Leader from The Adventures of Rocky and Bullwinkle.
Robert De Niro was born in New York on August 17th, 1943. His mother was a painter and his father was a painter, sculptor and poet. At the age of ten he played his first stage role, appearing in the Wizard of Oz as the Cowardly Lion, a perfect role for the shy boy.
His early teens were mostly spent hanging around with a small-time gang, but acting eventually returned. His first paying gig as an actor was in a touring performance of Chekhov's The Bear. He worked steadily in dinner theaters and Off-Broadway, studying with Method acting teachers Stella Adler and Lee Strasberg.
His first three film releases were with director Brian De Palma, who led him through The Wedding Party, Greetings and Hi, Mom!. The Wedding Party, which was actually shot in 1963, took six years to make it to the screen.
In 1973 he caught the attention of critics and other filmmakers when he appeared as Bruce Pearson, a dying baseball player in Bang the Drum Slowly. The role earned him a New York Film Critics award for Best Actor. 1973 was also the year that he first worked with Martin Scorsese, working in the film Mean Streets. The pair would do some of their best work together, and over the years they have made Taxi Driver, Raging Bull, New York, New York, The King of Comedy, Goodfellas, Cape Fear and Casino.
In 1974, De Niro caught the attention of audiences as well as he appeared as a young Vito Corleone in Francis Ford Coppola's The Godfather, Part II. He won a Best Supporting Actor Oscar® for that performance.
"Are you talkin' to me?" That's the question Travis Bickle asked in 1976's Taxi Driver. Audiences may not have been talking to him, but they were looking. Travis Bickle is arguably De Niro's most famous role, and it earned him the first of five Best Actor nominations from the Academy Awards®.
De Niro ended the 70's with his 1978 role in The Deer Hunter. He started the 80's with his performance of Jake La Motta in Raging Bull. His dedication to his craft was exemplified by his gaining of 60 pounds to play the role. The role also gained him some golden weight, as he won Best Actor awards from both the Oscars® and the Golden Globes. Other roles in the 80's included Rupert Pupkin in The King of Comedy with Jerry Lewis, Once Upon a Time in America, Brazil, The Mission, The Untouchables and Midnight Run.
The next decade started with Martin Scorsese again as he appeared with Joe Pesci and Ray Liotta in Goodfellas. He worked with Martin again in 1991 when they remade Cape Fear.
De Niro also started the Tribeca Film Center in the 90's, a company intent on promoting film-making in New York. The need for cash to fund this venture led many critics to believe that was his sole purpose in working in duds like We're No Angels, The Fan and Mary Shelley's Frankenstein.
That wasn't always the trend in the 90's however and in 1995 he had well-received turns in both Heat (which paired him on screen with fellow acting god Al Pacino) and another role for Scorcese in Casino. He worked with Dustin Hoffman in Wag the Dog (1997) and skewered his mob roles opposite Billy Crystal in the comedy hit Analyze This in 1999. His last performance in 1999, Flawless, also earned him good notices. The 90's also saw him take a stab at directing and in 1993 he directed and starred in A Bronx Tale.
2000 was a busy year for De Niro. The Adventures of Rocky & Bullwinkle made a loud flopping sound at the box office, but he had two chances to redeem himself with performances in Men of Honor with Cuba Gooding Jr. and the comedy Meet the Parents with Ben Stiller.
In December of 2000, Robert was nominated for a Golden Globe for his role in Meet the Parents.
In 2001, De Niro worked opposite Ed Burns in 15 Minutes and with Marlon Brando and Edward Norton on The Score. After the tragic events of September 11th, 2001, De Niro created the Tribeca Film Festival to help bring some financial and cultural activity to the area near Ground Zero. The first edition of this festival debuted in 2002.
Robert worked with Eddie Murphy in 2002's Showtime. That same year, he appeared in City by the Sea and revisited his neurotic gangster, Paul Vitti, in the sequel Analyze That. His appearance in 2004's Godsend was mostly trashed by the critics. That same year he also lent his voice to Shark Tale, reteamed with Ben Stiller for Meet the Fockers and appeared in The Bridge of San Luis Rey.
In 2005, De Niro played opposite Dakota Fanning in the horror Hide and Seek then worked with Matt Damon and Angelina Jolie in 2006's The Good Shepherd.
In 2007's Stardust, De Niro played a cross-dressing, dancing buccaneer, while 2008's What Just Happened? (with Bruce Willis) had him portraying a fading Hollywood producer.
As time progresses, we'll have more info about Robert De Niro here. If you have any comments or suggestions about our coverage, please email us.