Al Pacino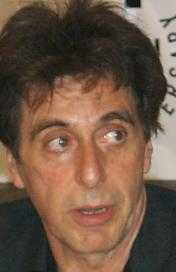 Check out our Al Pacino photo gallery.
Born: Apr. 25, 1940 South Bronx, New York, USA
[Please note that we are recovering from a bad database backup and some of our bio entries might be a bit stale. We are baking up a fresh batch as soon as possible.]
Al Pacino was born in New York on April 25th, 1940. He was the only child of Salvatore and Rose Pacino, who divorced when young Alfredo was two. Combine the movies he went to with his mother with the natural bravado a young boy needed to survive in the Bronx and you have the perfect making of a natural performer.
Al started performing in school plays and at the age of fourteen transfered to the High School of the Performing Arts. His academic classes weren't up to snuff though and Pacino eventually dropped out.
He drifted through a variety of odd jobs but saved his money and eventually had enough to enroll at the Herbert Berghof Studio. There he trained under, and befriended acting coach Charlie Laughton. He worked hard on his theater skills and in 1966 landed a spot in the prestigious Actors Studio.
He appeared opposite James Earl Jones in The Peace Creeps and after a stint in Boston received rave reviews for his role of Murph in The Indian Wants the Bronx. His work earned him the Off-Broadway community's Obie for Best Actor for the '67-'68 season.
The next year brought Pacino's Broadway debut and though Does the Tiger Wear a Necktie? only lasted 39 performances he again caught the attention of critics and peers and was awarded his first Tony Award. The young actor felt ready for a try at a film career.
He played a junkie in his first film, 1969's Me, Natalie and again in 1971's The Panic in Needle Park. His performance in the latter film brought him to the attention of Francis Ford Coppola who, despite studio pressure, cast him as Michael Corleone in The Godfather. That performance netted him an Oscar® nomination for Best Supporting Actor.
He followed that landmark performance with roles in Serpico, The Godfather, Part II (for which he received another Oscar® nomination) and Dog Day Afternoon. He even tried his hand at comedy in Author! Author!. Though he's had a few small stumbles (did anyone see Revolution?) he continued to toss out memorable performances in Scarface, Sea of Love and Frankie and Johnny.
In 1977, Al won another Tony Award for his role in The Basic Training of Pavlo Hummel, a testament to the fact that his stage chops are still sharp as he always tries to schedule a play after each film.
With no sign of slowing down, Pacino continued to provide great moments on screen. The 90's saw him perform in The Godfather, Part III, Glengarry Glen Ross, his Oscar®-winning turn in Scent of a Woman,Carlito's Way and Heat opposite Robert De Niro. He examined his love for Shakespeare in the documentary Looking for Richard and closed off the decade with Donnie Brasco, Devil's Advocate, The Insider (with Russell Crowe) and Oliver Stone's Any Given Sunday with Cameron Diaz.
Al Pacino was presented with the Cecil B. DeMille lifetime achievement award at the 58th Annual Golden Globes.
In 2002, he appeared with Robin Williams and Hilary Swank in Insomnia and played a director with a computer-generated star in S1mone. Early 2003, saw him playing mentor to Colin Farrell's spy in The Recruit.
Though Pacino had a small role in the Ben Affleck/[textileRef:1819498055657619f5b54e1:linkStartMarker:"Jennifer Lopez":/cr/jenniferlopez/] bomb Gigli, all was forgiven by his performance in the HBO mini-series Angels in America, a role that earned him a Golden Globe for Best Performance by an Actor in a Mini-Series or Motion Picture made for Television.
As time progresses, we'll have more info about Al Pacino here. If you have any comments or suggestions about our coverage, please email us.