Colin Farrell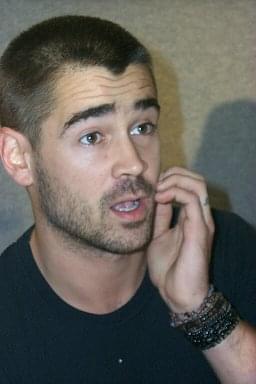 Check out our Colin Farrell photo gallery.
Born: May 31, 1976 Dublin, Ireland
[Please note that we are recovering from a bad database backup and some of our bio entries might be a bit stale. We are baking up a fresh batch as soon as possible.]
Colin Farrell was born in Dublin, Ireland on May 31st, 1976. Raised in the Castleknock section of Dublin, Colin caught the acting bug and attended the Gaiety School of Acting. That only lasted about a year, as Colin began landing roles.
His first film role was in Drinking Crude and he followed that up with a role in the TV drama Falling For a Dancer. After that he spent two seasons playing Danny Byrne on the Irish series Ballykissangel.
In 1999, he had a small role in Tim Roth's directorial debut The War Zone and then headed for the London stage, where he played an autistic teen in In a Little World of Our Own. His performance was caught by actor Kevin Spacey who recommended that he co-star with him in 2000's Ordinary Decent Criminals.
He caught the attention of Hollywood and the critics later that year when he played a recruit from Texas in Joel Schumacher's Tigerland.
In 2001, he and Scott Caan starred in American Outlaws. That and 2002's Hart's War (with Bruce Willis) didn't fare too well with the critics but he received good notices again for his performance opposite Tom Cruise in Minority Report.
Colin teamed with Schumacher again for Phone Booth in the fall of 2002. 2003 was also a busy year for him as well, as he appeared with Ben Affleck in Daredevil, Samuel L. Jackson in S.W.A.T., The Recruit with Al Pacino and Cate Blanchett in Veronica Guerin. He also appeared in the Irish drama Intermission.
In 2004, Farrell went from the indie-sized A Home at the End of the World to Oliver Stone's epic-sized, critically-savaged Alexander with Angelina Jolie.
He had a guest role on Scrubs in 2005 and that same year appeared in the Terrence Malick drama The New World. In 2006 he again alternated indie and blockbuster, starring opposite Salma Hayek in Robert Towne's Ask the Dust and then teaming with Jamie Foxx in Michael Mann's film version of Miami Vice. The next year he teamed with Ewan McGregor for Woody Allen's Cassandra's Dream and the starred in the critically-loved dark comedy In Bruges. That role earned him a Golden Globe nomination for Best Performance By An Actor In A Motion Picture — Comedy Or Musical.
Colin was married to Amelia Warner for five months in 2001. His son with former girlfriend, Kim Bordenave, was born in 2003.
As time progresses, we'll have more info about Colin Farrell here. If you have any comments or suggestions about our coverage, please email us.