Jamie Foxx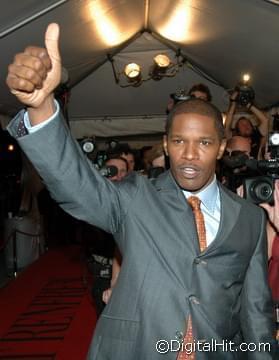 Check out our Jamie Foxx photo gallery.
Born: Dec. 13, 1967 Terrell, Texas, USA
[Please note that we are recovering from a bad database backup and some of our bio entries might be a bit stale. We are baking up a fresh batch as soon as possible.]
Jamie Foxx was born in Terrell, Texas on Dec. 13, 1967. His grandparents adopted him when he was seven months old. His grandmother made sure he took piano lessons and Foxx studied music and sang in a church choir in Texas. After graduation, Jamie attended the U.S. International University in San Diego on a music scholarship. He'd hit L.A. on the weekends and started trying his luck at the comedy clubs. He moved to Los Angeles in 1989 and kept performing on the stand up circuit.
In 1991, Jamie joined the Wayans' brothers TV sketch show, In Living Color, a gig that lasted until 1994. His feature debut came a year into his TV gig, when he appeared in the comedy Toys, which starred Robin Williams and Robin Wright Penn. In 1996, Foxx had a busy year with The Truth About Cats & Dogs starring Uma Thurman and Janeane Garofalo, The Great White Hype starring Samuel L. Jackson, and his own TV show, the aptly-named The Jamie Foxx Show.
Unfortunately, the series was short-lived. In 1997, he starred in Booty Call along with another former In Loving Color cast member, Tommy Davidson. In 1998, he appeared in Ice Cube's directorial debut The Players Club. The following year, Foxx appeared in two more features: Oliver Stone's Any Given Sunday, which starred Al Pacino, Cameron Diaz and Dennis Quaid and Held Up with Nia Long. In 2000, he starred in Bait with David Morse.
2001 saw Foxx hosting the MTV Video Music Awards. That same year he also appeared in Ali with Will Smith and Jon Voight. In 2003, Foxx worked on the film Shade with Sylvester Stallone, Melanie Griffith and Gabriel Byrne.
2004 was a very big year for Foxx. He starred in Redemption: The Stan Tookie Williams Story, Breakin' All the Rules with Morris Chestnut and Gabrielle Union, Collateral with Tom Cruise and Jada Pinkett Smith and Ray, a biopic about legendary musician Ray Charles. He also hosted the 2004 ESPY Awards.
Jamie's work in Collateral earned him several nominations, but the big prizes were saved for Ray, which earned Foxx a Golden Globe, a SAG Award and an Oscar.
In 2005, Jamie starred in Stealth with Josh Lucas and Jessica Biel and Jarhead with Jake Gyllenhaal and Peter Sarsgaard. In 2006, he starred opposite Colin Farrell in Michael Mann's Miami Vice and then starred in the critically-acclaimed Dreamgirls with Eddie Murphy, Beyoncé Knowles and Jennfier Hudson. The following year, Foxx starred in The Kingdom with Chris Cooper, Jennifer Garner and Jason Bateman. In 2009, he starred in The Soloist with Robert Downey Jr. and was part of Valentine's Day's ensemble cast.
Foxx and Downey Jr. worked again in 2010, working with Zach Galifianakis in Due Date. He had a couple of comic turns in 2011, voicing Nico in Rio and a murder consultant in Horrible Bosses with Jason Bateman, Jason Sudeikis and Charlie Day before turing to more serious and violent fare in Django Unchained.
In 2013, Foxx teamed up with Channing Tatum for the action-packed White House Down. A year later, he once again voiced Nico in Rio 2 and played Electro opposite Andrew Garfield and Emma Stone in The Amazing Spider-Man 2.
As time progresses, we'll have more info about Jamie Foxx here. If you have any comments or suggestions about our coverage, please email us.