Jessica Biel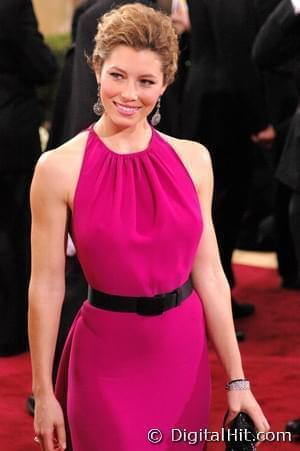 Check out our Jessica Biel photo gallery.
Born: Mar. 3, 1982 Ely, Minnesota, USA
[Please note that we are recovering from a bad database backup and some of our bio entries might be a bit stale. We are baking up a fresh batch as soon as possible.]
Jessica Clare Biel was born on March 3, 1982 in Ely, Minnesota.
Biel took voice and dance lessons as a young girl, but it was her big break playing Mary Camden on the hit show 7th Heaven that made her a household name. At the young age of 14, Biel was propelled into homes every week playing the innocent daughter of a minister (Stephen Collins) alongside Barry Watson and Catherine Hicks.
In 1997, she played the granddaughter of Peter Fonda in Ulee's Gold. The next year, she had a supporting role in I'll Be Home for Christmas starring Jonathan Taylor Thomas.
In 2000, Biel raised more than a few eyebrows when she posed for Gear magazine in an attempt to get her out of her 7th Heaven contract. Her plan partially worked and her role on the show was reduced and she enrolled in Tufts University. She later left university without a degree to focus on her acting career.
In 2001, she played Freddie Prinze Jr.'s object of affection in Summer Catch and a year later she found herself with Kate Bosworth and James Van der Beek in Rules of Attraction. In 2003, Biel starred in the horror remake of the 70's classic Texas Chainsaw Massacre with Eric Balfour. This role garnered her more recognition and once again she was on the minds of audiences. She then starred in Blade:Trinity in 2004 with Wesley Snipes and Ryan Reynolds.
Biel was busy in 2005 with releases Stealth (starring Josh Lucas, Sam Shepard and Jamie Foxx), London with Chris Evans and Joy Bryant and Elizabethtown starring Orlando Bloom and Kirsten Dunst. In 2006, she appeared in The Illusionist with Edward Norton and Paul Giamatti. Also that year, she was seen in Home of the Brave with Samuel L. Jackson and Christina Ricci.
In 2007, she was seen in Next starring Nicolas Cage and Julianne Moore and I Now Pronounce You Chuck and Larry starring Adam Sandler and Kevin James. That was followed by 2008's Hole in the Paper Sky (a short she also produced) and Easy Virtue, a period piece that saw her working opposite Ben Barnes, Kristin Scott Thomas and Colin Firth. In 2009, she played a stripper in Powder Blue and lent her voice to the animated Planet 51.
In 2010, Jessica celebrated Valentine's Day with director Garry Marshall and an ensemble cast and joined the remake of The A-Team with Liam Neeson and Bradley Cooper. She hit the holidays again with Garry Marshall in 2011's New Year's Eve.
2012 was a busy one for Biel as she appeared in The Tall Man, the Total Recall remake with Colin Farrell and Kate Beckinsale and Hitchcock with Anthony Hopkins and Scarlett Johansson. 2012 also saw her getting married to boyfriend Justin Timberlake in Italy.
As time progresses, we'll have more info about Jessica Biel here. If you have any comments or suggestions about our coverage, please email us.