Edward Norton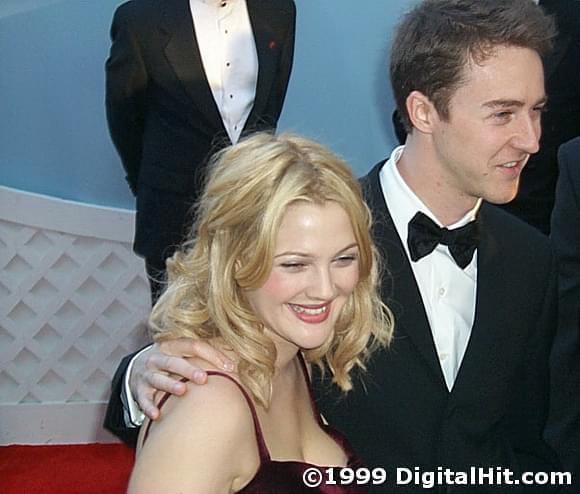 Check out our Edward Norton photo gallery.
Born: Aug. 18, 1969 Boston, Massachusetts, USA
[Please note that we are recovering from a bad database backup and some of our bio entries might be a bit stale. We are baking up a fresh batch as soon as possible.]
Edward Norton is respected as a hard-working, talented actor who has managed to steer most of his life away from the tabloids.
It's hard to believe that 1996's Primal Fear, for which he took home a Golden Globe and was nominated for an Oscar®, was his first film. Where did he come from? Who is he?
Well, Edward Norton was born on August 18th, 1969 in Columbia, Maryland. We can skip over most of the years after his birth because not much is known about them. Norton guards his privacy for two reasons: He doesn't believe he needs to share his personal life with the world and he also feels the less people know about him the easier it is for them to believe him as his characters.
He will admit that acting was an interest since his youth and attended theater school in Baltimore. His acting continued at Yale and then he was off to New York to try and get work.
In 1994, playwright Edward Albee noticed him and cast him in the world premiere of Fragments with the Signature Theatre Company. He became a Signature regular.
His Hollywood entrance came about when Leonardo DiCaprio dropped out of the Richard Gere 1996 flick Primal Fear. Over two thousand actors were auditioned for the role until they came across this relative unknown with the accent so dead on they thought he had been born in Kentucky.
When Primal Fear came out, many critics said Norton was the best thing in it. A Golden Globe win and an Oscar® nomination seemed to back that up. Edward followed that up with a role in Woody Allen's musical Everyone Says I Love You, playing opposite Drew Barrymore. In the same year he portrayed Larry Flynt's lawyer in Milos Forman's The People vs. Larry Flynt. He also dated co-star Courtney Love.
Around the time that his screen career was taking off, Norton lost his grandfather and mother. He was able to use his new celebrity to organize a benefit screening of Everyone Says I Love You that raised funds for the John Hopkins Hospital where his mother had been treated.
Norton had two films come out in 1998. He played opposite Matt Damon in Rounders, a film that looked at the high-pressure underground world of high-stakes poker. He then stunned audiences with his beefed up body and riveting performance as a charismatic skinhead in American History X, a film that earned him his second Oscar® nomination.
In 1999, Norton appeared opposite Brad Pitt in Fight Club.
He then directed and starred in his 2000 project, Keeping the Faith, a comedy that also starred Ben Stiller and Jenna Elfman.
He appeared opposite Robert De Niro and Marlon Brando in 2001's The Score and opposite Robin Williams and Danny DeVito in 2002's Death to Smoochy. That same year, Norton appeared in Frida with then girlfriend Salma Hayek, Red Dragon with Ralph Fiennes and Anthony Hopkins, and 25th Hour with Philip Seymour Hoffman and Barry Pepper. The next year, he appeared in The Italian Job remake with Mark Wahlberg and Charlize Theron.
In 2005, Edward worked on Ridley Scott's Kingdom of Heaven with Orlando Bloom and Liam Neeson and Down in the Valley with Evan Rachel Wood. The next year, he shot The Illusionist with Paul Giamatti and Jessica Biel and then The Painted Veil.
Two years would go by before Norton would star in The Incredible Hulk, another attempt at taking the green guy with anger issues to the big screen. This adaptation also featured William Hurt, Tim Roth and Liv Tyler.
As time progresses, we'll have more info about Edward Norton here. If you have any comments or suggestions about our coverage, please email us.