Ralph Fiennes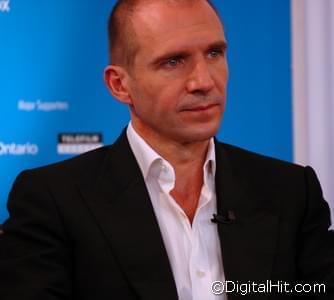 Check out our Ralph Fiennes photo gallery.
Born: Dec. 22, 1962 Suffolk, England, UK
[Please note that we are recovering from a bad database backup and some of our bio entries might be a bit stale. We are baking up a fresh batch as soon as possible.]
Ralph Fiennes was born on December 22nd, 1962 in Suffolk, England. Deciding to give up painting to pursue acting, Ralph (pronounced "Rafe" like "safe") studied at RADA and went on to receive critical kudos for his Shakespearean performances.
Though he had TV and film roles in Prime Suspect, Wuthering Heights and The Baby of Mâcon, Fiennes first captured the attention of North American audiences when Steven Spielberg cast him as Amon Goeth, commandant of the Nazi concentration camp at Plaszow, in 1993's Schindler's List. The role opposite Liam Neeson earned him critical raves and an Oscar® nomination.
The next year, Fiennes was directed by Robert Redford in Quiz Show, where he played the disgraced quiz show darling Charles Van Doren. His sci-fi flick Strange Days was followed by another trip to World War II (and another Oscar® nomination) for his performance in 1996's The English Patient. The romance continued as Ralph played Oscar to Cate Blanchett's Lucinda in Gillian Armstrong's Oscar and Lucinda.
After a good string of flicks, Fiennes heard a loud flopping sound when he teamed up with Uma Thurman and Sean Connery to appear in the film version of The Avengers. After voicing Rameses in DreamWork's animated film The Prince of Egypt, he was all over the 1999 Toronto International Film Festival as he promoted both Sunshine and Onegin, the latter directed by his sister, Martha.
That same year (1999) he also worked with Julianne Moore in The End of the Affair. 2002 was also a busy year for Fiennes as he appeared in David Cronenberg's Spider, made an appearance in Neil Jordan's The Good Thief, worked opposite Anthony Hopkins and Edward Norton in Red Dragon and appeared in the romantic comedy Maid in Manhattan with Jennifer Lopez.
Ralph was very busy in 2005, appearing in the Chumscrubber with Jamie Bell and Glenn Close, Chromophobia with Penélope Cruz, The Constant Gardener with Rachel Weisz, lending his voice to Wallace & Gromit in The Curse of the Were-Rabbit opposite Helena Bonham Carter, The White Countess with Natasha Richardson, and earning legions of younger viewers when he played Lord Voldemort in Harry Potter and the Goblet of Fire. In 2006, Fiennes worked opposite Donald Sutherland in Land of the Blind and also worked with Susan Sarandon on Bernard and Doris. The latter was shown at festivals in 2006 but never made it to theatres. It ended up being broadcast on U.S. cable and earned several nominations in the 2008 and 2009 awards season.
In 2007, Fiennes reprised his role in Harry Potter and the Order of the Phoenix. He kept quite busy in 2008, working with Colin Farrell and Brendan Gleeson on In Bruges, playing opposite Keira Knightley in The Duchess, taking part in the Iraq War in The Hurt Locker and teaming up with Kate Winslet for The Reader.
As time progresses, we'll have more info about Ralph Fiennes here. If you have any comments or suggestions about our coverage, please email us.