Sean Connery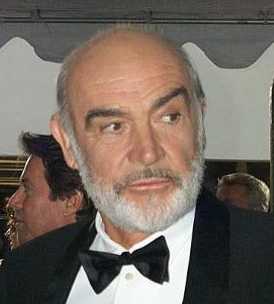 Check out our Sean Connery photo gallery.
Born: Aug. 25, 1930 Edinburgh, Scotland, UK
Died: Oct 31, 2020
[Please note that we are recovering from a bad database backup and some of our bio entries might be a bit stale. We are baking up a fresh batch as soon as possible.]
Born in Edinburgh, Scotland, Sean Connery had the distinction of being well-loved, highly respected, and frequently imitated by his Hollywood peers. Despite a birth date that landed in 1930, he was long considered one of the acting world's sexiest leading men. In fact his Entrapment co-star Catherine Zeta-Jones said she initially wondered if she could pull off acting romantically with a man 41 years older than her. After a few minutes of being with him, she said it was totally possible.
Connery did repertory stage, TV and film work in the 1950s but really hit the public eye in a big way when he was chosen to play Ian Fleming's superspy James Bond in Dr. No in 1962. He would play the character seven times over the years. He played the character with a perfect blend of strength and wit that easily made him the favorite Bond of many fans.
He managed to get a career going outside that character as well. He worked with Alfred Hitchcock in Marnie, did a lot of work with Sidney Lumet ([The Hill, The Anderson Tapes, The Offense, Murder on the Orient Express and Family Business]), John Boorman (Zardoz), John Huston ([The Man Who Would Be King with Michael Caine), John Milius (The Wind and the Lion), Richard Lester (Robin and Marian) and Terry Gilliam (Time Bandits). He revisited the Bond character for his seventh and last time in 1983's Never Say Never Again.
Sean followed that Bond flick with Highlander and The Name of the Rose but he landed firmly back on the A-list when he won an Oscar® for his performance as the Irish cop in Brian De Palma's The Untouchables. From there he appeared as Harrison Ford's father in Steven Spielberg's third Indiana Jones film, Indiana Jones and the Last Crusade.
Connery continued to be in demand and loved by audiences. His short appearance in Robin Hood, Prince of Thieves showed that he could have the crowds cheering just by showing up. He could also have audiences believing in a Scottish-accented Russian sub captain in The Hunt for Red October opposite Alec Baldwin. He played a publisher in The Russia House and a doctor in Medicine Man. He was just as at home appearing in a police drama with Wesley Snipes (Rising Sun) as he was playing a king in First Knight, a dragon's voice in Dragonheart or a prisoner in The Rock. He also showed no signs of slowing down as audiences headed out to see him and the Catherine Zeta-Jones in Entrapment. He also had good reviews for his role in Finding Forrester. The same could not be said for his summer 2003 release The League of Extraordinary Gentleman, which was blasted by many critics.
Connery became Sir Sean Connery in 2000 when he was knighted by the UK's Queen Elizabeth II. Sadly, Sir Sean passed away on October 31st, 2020.
As time progresses, we'll have more info about Sean Connery here. If you have any comments or suggestions about our coverage, please email us.