Alec Baldwin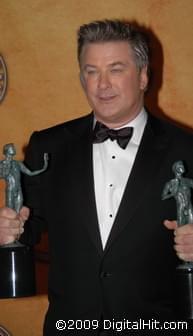 Check out our Alec Baldwin photo gallery.
Born: Apr. 3, 1958 Massapequa, Long Island, New York, USA
[Please note that we are recovering from a bad database backup and some of our bio entries might be a bit stale. We are baking up a fresh batch as soon as possible.]
Alexander Rae Baldwin III was born on April 3, 1958. He was one of six siblings, with sisters Jane and Elizabeth and fellow actors Daniel, Stephen, and William.
Though he acted in high school, it wasn't until a fateful visit to the Theatre Department at New York University through a friend that made Baldwin transfer to NYU's Tisch School of the Arts. Baldwin's pursuit of a political science degree at Georgetown University didn't turn out as he planned and it was in his third year that things changed. Even though he had every intention of completing his political science degree alongside his theatre degree, Baldwin was discovered at a nightclub and was soon seen on the soap opera The Doctors from 1980 to 1982. Soon after, he was seen in the 1984 television movie Sweet Revenge and was again seen regularly on television in the primetime soap Knots Landing from 1984 to 1985.
Still not letting go of his love for politics, Baldwin started volunteering for California assemblyman Tom Hayden. After Knots Landing ended, he spent sometime making TV movies, but it wasn't until 1988 that audiences would see a lot of Baldwin on the big screen. He played Kevin Bacon's sleazy friend in She's Having a Baby, Geena Davis' husband in Beetlejuice with Michael Keaton and Winona Ryder, Married to the Mob with Michelle Pfeiffer, Working Girl with Melanie Griffith and Harrison Ford and Talk Radio.
In 1989, Baldwin played preacher Jimmy Swaggart, Jerry Lee Lewis' cousin, in Great Balls of Fire! opposite Dennis Quaid. The next year, he took the role of Jack Ryan in The Hunt For Red October with Sean Connery and was also seen in Miami Blues and Alice. In 1991, Baldwin starred with Kim Basinger in The Marrying Man and later starred with her in a rocky marriage.
Baldwin shocked many in Hollywood when he turned down the chance to continue playing Jack Ryan in a string of films, with the role being played later by both Harrison Ford and Ben Affleck. He gained much acclaim on the New York stage, playing Stanley Kowalski in A Streetcar Named Desire, earning himself a Tony nomination. In 1992, he went on to receive critical acclaim in Glengarry Glen Ross holding court with Al Pacino, Jack Lemmon, Ed Harris and Kevin Spacey. In 1993, he starred in Malice opposite Nicole Kidman and followed that with a busy 1994, where he starred in The Getaway, The Shadow and the TV movie version of A Streetcar Named Desire, which earned him Emmy and Golden Globe nominations.
In 1995, he took over for the injured Christopher Reeve and became president of the non-profit advocacy group, the Creative Coalition. That same year, he was charged with punching a paparazzo for taking pictures of himself, Basinger and their infant daughter Ireland. Though he would later be exonerated, it only lent to Baldwin's reputation for being a hot head. In 1996, he was seen in Heaven's Prisoners and Ghosts of Mississippi with James Woods and Whoopi Goldeberg. The following year, he was in The Edge with Anthony Hopkins and followed that with Thick as Thieves and Mercury Rising.
A busy 1999 saw Baldwin work on The Confession, Scout's Honor and Outside Providence. Alec kept busy in 2000, narrating Thomas and the Magic Railroad, playing an attorney prosecuting Nazi war criminals in Nuremberg and starring in State and Main with Sarah Jessica Parker. In 2001, he was in Pearl Harbor with Ben Affleck and Josh Hartnett and narrated the Royal Tenenbaums with Ben Stiller and Gwyneth Paltrow.
2002 marked the beginning of the very public and ugly divorce and custody battle between himself and Basinger. He earned his first Oscar nomination in 2003 for his supporting role in The Cooler with William H. Macy and Maria Bello and tackled Dr. Seuss in The Cat in The Hat with Dakota Fanning and Mike Myers. In 2004, Baldwin appeared in Along Came Polly with Jennifer Aniston and Ben Stiller, The Last Shot, The Aviator and voiced Dennis in the SpongeBob SquarePants movie.
He started flexing his comedic muscles in 2005 with Fun with Dick and Jane with Jim Carrey and Tea Leoni, and had a recurring role on Will and Grace. In 2006, he was in Running with Scissors, and took more serious roles in Martin Scorcese's The Departed with Leonardo DiCaprio and The Good Shepherd with Matt Damon.
Baldwin, who has hosted SNL countless times, was cast in 2006 as Tina Fey's network boss on the SNL-themed 30 Rock. The role has earned him critical acclaim, awards and a reputation for impeccable comic timing.
In 2009, Baldwin appeared in both Lymelife and My Sister's Keeper, as well as It's Complicated with Meryl Streep and Steve Martin. Alec and Steve hosted the 82nd Academy Awards in 2010.
In 2011, Baldwin starred in Hick directed by his Lymelife director, Derick Martini.
As time progresses, we'll have more info about Alec Baldwin here. If you have any comments or suggestions about our coverage, please email us.