Tina Fey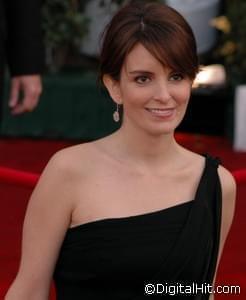 Check out our Tina Fey photo gallery.
Born: May 18, 1970 Upper Darby, Pennsylvania, USA
[Please note that we are recovering from a bad database backup and some of our bio entries might be a bit stale. We are baking up a fresh batch as soon as possible.]
Elizabeth Stamatina Fey was born May 18, 1970 in Upper Darby, Pennsylvania. Not surprising Fey's love for comedy started at an early age. She attended the University of Virginia and earned a degree in drama.
After graduating in 1992, Fey moved to Chicago and started training at The Second City. In 1994, Fey was invited to join the The Second City's cast. She would also team up with people who would later be castmates on Saturday Night Live with her: The Upright Citizen's Brigade with Amy Poehler and Horatio Sanz and Dratch & Fey with Rachel Dratch.
In 1997, she was invited to join the writing staff at SNL and became a regular cast member in 1998. The next year, she was promoted to head writer and became an anchor with Jimmy Fallon on Weekend Update in 2000.
In 2004, she wrote and acted in Mean Girls which starred Lindsay Lohan, Rachel McAdams, Lacey Chabert and Amanda Seyfried. This huge success hit home with many who saw it and saw truth in the ugliness of cliques in high school. The film's success had Fey in demand.
In 2006, she created and starred in a sitcom based on SNL. Produced by Lorne Michaels, 30 Rock has her trading lines with Alec Baldwin, who stars as her right-wing boss. In 2008, she won both the Golden Globe and the SAG Award for her acting on the show.
She teamed up with Amy Poehler again in 2008's Baby Mama, playing a woman who uses Poehler as a surrogate with hilarious results. 2008 also saw Fey deliver a bang-on parody of Sarah Palin during the U.S. presidential election. She won an Emmy for her guest spots on SNL.
Tina married Second City director Jeff Richmond in 2001. They have a daughter, Alice Zenobia Richmond, who was born in 2005.
As time progresses, we'll have more info about Tina Fey here. If you have any comments or suggestions about our coverage, please email us.