Sarah Jessica Parker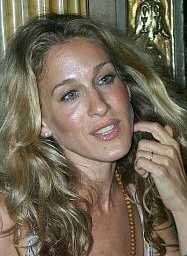 Check out our Sarah Jessica Parker photo gallery.
Born: Mar. 25, 1965 Nelsonville, Ohio, USA
[Please note that we are recovering from a bad database backup and some of our bio entries might be a bit stale. We are baking up a fresh batch as soon as possible.]
A triple-threat performer with a quirky sexiness, Sex and the City star Sarah Jessica Parker does it all. Her life has all the tangents of a conversation with her on a talk show: actress, singer, stage, TV, film, diehard Yankees fan, devoted wife, producer. There's still uncharted territory in her career, but don't worry, she'll get to it.
Sarah Jessica was born in Nelsonville, Ohio on March 25th, 1965. Her parents divorced when she was one and her mother later remarried. A born entertainer, she appeared in her first television special, The Little Match Girl, when she was eight years old.
Parker studied ballet with the Cincinnati Ballet and American Ballet Theater, and worked on her singing with the Metropolitan Opera.
In 1976, the move to the Big Apple was made as Sarah Jessica had landed her first Broadway role in The Innocents. She later joined the cast of The Sound of Music before, in 1979, she became the third girl to don the red dress as the lead in Annie. She stayed with that role for 12 months. 1979 also marked her first film appearance, in the John Lithgow vehicle Rich Kids.
In 1982, the move west was made and Sarah Jessica transferred to Hollywood High so she could take a role in the CBS sitcom Square Pegs. The show lasted a year, but Parker continued to work in films and television with roles in Footloose, Firstborn, Girls Just Want to Have Fun and Flight of the Navigator. In 1987 she hit the small screen again in the series A Year in the Life__and in 1990 she had a role in another short-run series, __Equal Justice.
1991 was an excellent year for Sarah Jessica Parker. First off, Steve Martin, cast her as the bouncy, vivacious beach babe SanDeE* (that's not a typo) in his film L.A. Story. Suddenly, audiences and, more importantly, directors and producers realized the great comic performer had also become seriously sexy, a realization that opened her up to a new range of roles. 1991 also marked a turning point in her personal life. She had dated John F. Kennedy Jr. and lived with Robert Downey Jr. for seven years, but in November 1991 she met Matthew Broderick while he was directing her brother in a play. They started dating a few months later and married in 1997.
With her sexy AND funny image in tow, Sarah Jessica kept herself BUSY on the big screen, working with Nicolas Cage and James Caan in Honeymoon in Vegas, Bette Midler in Hocus Pocus, Bruce Willis in Striking Distance, Ed Wood with Johnny Depp, Miami Rhapsody with Antonio Banderas, The First Wives Club, Extreme Measures (with Hugh Grant and Gene Hackman) and Mars Attacks!. Phew!
Not content to work solely on the big screen, Sarah Jessica squeezed in several Broadway and Off-Broadway productions as well as starting her sexy HBO series Sex and the City in 1998. She still managed to get some more film work done, appearing opposite Brendan Fraser in Dudley Do-Right and Alec Baldwin in State and Main. In 2002, Parker starred with Harry Connick Jr. in Life Without Dick.
During Sex and the City's run, she was nominated for Golden Globes eight times (1999-2006) and won four times (2000, 2001, 2002 and 2004). The show also earned her six Emmy nominations 1999-2004 and one win in 2004. Sex and the City's successful run came to an end on February 22nd, 2004, amid much media hoopla.
After the series was over, Parker continued her film career. In 2005, she appeared in the Amy Sedaris vehicle Strangers with Candy and The Family Stone with Diane Keaton and Rachel McAdams. In 2006, she starred with Matthew McConaughey in Failure to Launch and followed that with 2007's Spinning Into Butter with Beau Bridges and Miranda Richardson.
Though Parker appeared in 2008's Smart People with Dennis Quaid and Ellen Page, the big event of the years was the release of the Sex and the City movie.
Keeping busy on screen and off, she still manages to have time to have season tickets to the Yankees and involve herself in charitable and political causes. Perhaps she's identical triplets…
She and her husband, Matthew Broderick, had their first child, James Wilke Broderick, in October of 2002.
As time progresses, we'll have more info about Sarah Jessica Parker here. If you have any comments or suggestions about our coverage, please email us.