Nicolas Cage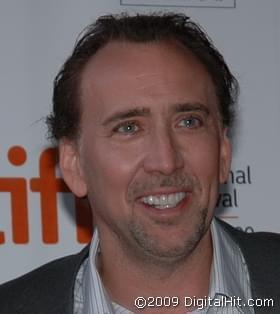 Check out our Nicolas Cage photo gallery.
Born: Jan. 7, 1964 Long Beach, California, USA
[Please note that we are recovering from a bad database backup and some of our bio entries might be a bit stale. We are baking up a fresh batch as soon as possible.]
Born Nicolas Coppola in Long Beach, California on January 7th, 1964, Nicolas Cage has had a varied career that's seen him go from smaller, arty roles to ear-shattering action films and back.
The nephew of director Francis Ford Coppola made his film debut in the barely there role of "Brad's bud" in 1982's Fast Times at Ridgemont High. A year later, with his screen name changed to Nicolas Cage (inspired by comic-book hero Luke Cage), he starred in the teen flick Valley Girl. He then had a role in his uncle's film Rumble Fish followed by performances in Racing with the Moon and his uncle's The Cotton Club before really catching the eye of critics and audiences in the drama Birdy with Matthew Modine. That film also garnered him his first bit of method actor legend status when he knocked out one of his own teeth for the film.
He worked with his uncle again in 1986 when he played Kathleen Turner's husband in Peggy Sue Got Married. Though some people felt he chewed more scenery than termites, his work did catch the eye of Cher, who lobbied for him to be cast with her in Norman Jewison's Moonstruck, a role that earned him a Golden Globe nomination. He followed that with the Coen Brother's Raising Arizona with Holly Hunter, added another page to his method acting status by eating a live cockroach in Vampire's Kiss and played an Elvis-loving lead in David Lynch's Wild at Heart with Laura Dern. There was another touch of Elvis in Cage's 1992 Honeymoon in Vegas with Sarah Jessica Parker and another touch of Vegas in Mike Figgis' Leaving Las Vegas, the 1995 film that earned Cage a Best Actor Oscar®.
Wanting to expand his movie making options, Cage turned to action films. He starred with Sean Connery in The Rock, teamed with other "serious actors" like John Cusack and John Malkovich in Con Air and traded places and faces with John Travolta in Face/Off. From a triple play of action he turned to the love story City of Angels with Meg Ryan. He followed that with a trio of thrillers: Brian De Palma's Snake Eyes, Joel Schumacher's 8mm and Martin Scorsese's Bringing Out the Dead.
Turning back to the action genre, Cage had another hit on his hands as a car thief in Gone in 60 Seconds which co-starred Angelina Jolie. "Hit" was not a term that could be applied to Cage's next three films as Family Man, Captain Corelli's Mandolin and Windtalkers were all basically ignored. His personal life was not being ignored by the press. After ending his six-year marriage to actress Patricia Arquette, Cage married Elvis Presley's daughter Lisa Marie in 2002. The wedded bliss ended quickly and the pair divorced roughly three months later.
His career gained press attention again in 2002 and early 2003 when his he played real-life screenwriter Charlie Kaufman and his fictional twin brother Donald in Spike Jonze's Adaptation. The film garnered Cage another Academy Award® nomination. 2002 also saw Cage's directorial debut with Sonny. The following year he appeared in Matchstick Men.
Cage took his third trip down the altar in the summer of 2004, marrying 20-year-old Alice Kim. In November of that year, Cage returned to action with the flick National Treasure.
In 2005, Cage starred in Lord of War and The Weather Man, but probably garnered more press that year when he named his new son Kal-el, after Superman's name on Krypton. 2006 saw Cage voice Zoc in The Ant Bully, play a real-life Port Authority officer trapped in the rubble in Oliver Stone's World Trade Center and star in the remake The Wicker Man. Cage then starred opposite Eva Mendes in Ghost Rider, worked with Julianne Moore and Jessica Biel in Next and appeared in a segment of Grindhouse.
He then returned to the action genre with National Treasure: Book of Secrets in 2007. The following year, he starred in Bangkok Dangerous.
A busy 2009 saw Cage in Knowing and Bad Lieutenant: Port of Call New Orleans and lending his voice to Astro Boy and G-Force.
As time progresses, we'll have more info about Nicolas Cage here. If you have any comments or suggestions about our coverage, please email us.