Eva Mendes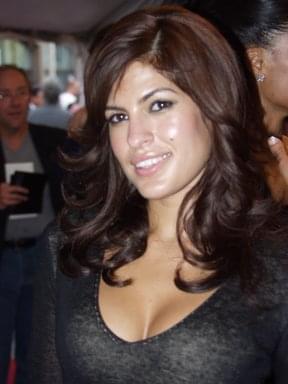 Check out our Eva Mendes photo gallery.
Born: Mar. 5, 1974 Houston, Texas, USA
[Please note that we are recovering from a bad database backup and some of our bio entries might be a bit stale. We are baking up a fresh batch as soon as possible.]
Eva Mendes was born in Houston, Texas on March 5, 1974. Her first movie, the straight-to-video Children of the Corn Part V: Fields of Terror (1998) was about as critically popular as her next film that year, the Wil Ferrel/Chris Kattan SNL flick A Night at the Roxbury.
In 1999, Eva appeared in My Brother the Pig with Scarlett Johansson. In 2000, she appeared with Ice T in the TV movie The Disciples and also acted in Urban Legend: The Final Cut.
She landed a couple of supporting roles in 2001: Exit Wounds with Steven Seagal and Training Day opposite Denzel Washington and Ethan Hawke. She once again hit the screens in 2002 with a role in All About the Benjamins.
The following year was a busy and productive one for Eva. She appeared with Paul Walker in the action sequel 2 Fast 2 Furious, with Antonio Banderas, Salma Hayek and Johnny Depp in Once Upon a Time in Mexico and with Denzel Washington and Dean Cain in Out of Time. Finally, she ended 2003 with Matt Damon and Greg Kinnear in the Farrelly Brothers' Siamese twin comedy, Stuck on You.
2005 was another busy night for Eva. She starred opposite Will Smith in the romantic comedy Hitch, appeared with Luke and Owen Wilson in The Wendell Baker Story (which didn't get a full release until 2007), worked with David Duchovny in Trust the Man, and was part of a short story collection in 3 & 3.
She also appeared frequently during 2007, starring in Ghost Rider with Nicolas Cage, the indie reality mockumentary Live!, Cleaner with Samuel L. Jackson and We Own the Night with Mark Wahlberg, Joaquin Phoenix and Robert Duvall.
In January of 2008, Eva entered a rehab facility. Her publicist released a statement saying that "Eva has been working hard for the past year and made a positive decision to take some much-needed time off to proactively attend to some personal issues that, while not critical, she felt deserved some outside professional support."
As time progresses, we'll have more info about Eva Mendes here. If you have any comments or suggestions about our coverage, please email us.