Dakota Fanning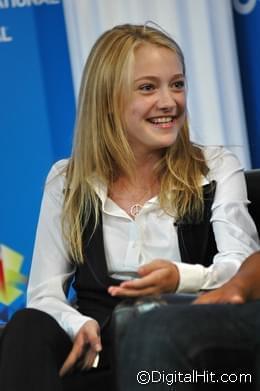 Check out our Dakota Fanning photo gallery.
Born: Feb. 23, 1994 Conyers, Georgia, USA
[Please note that we are recovering from a bad database backup and some of our bio entries might be a bit stale. We are baking up a fresh batch as soon as possible.]
Hannah Dakota Fanning was born February 23, 1994 in Conyers, Georgia.
After appearing in a Tide commercial, Dakota made her TV debut playing a leukemia patient on ER in 2000. That same year would see her make several TV appearances on shows like Ally McBeal, The Practice, Strong Medicine, Spin City and CSI: Crime Scene Investigation.
Her film debut would come in 2001, with roles in Tomcats and Father Xmas, but the role that caught the eye of audiences and critics alike was playing opposite Sean Penn in I Am Sam. The role earner her a SAG Award nomination for Best Supporting Actress.
Fanning was busy in 2002. She played a young Reese Witherspoon in Sweet Home Alabama, appeared in Hansel & Gretel with Lynn Redgrave, starred in Trapped with Kevin Bacon and Charlize Theron and played a role on the Steven Spielberg produced series Taken. The next year, Dakota starred in The Cat in the Hat with Mike Myers and Alec Baldwin and Uptown Girls with Brittany Murphy. She then held her own opposite Denzel Washington in Man on Fire in 2004.
A busy 2005 saw Fanning work with Tom Cruise on War of the Worlds, Hide and Seek with Robert De Niro, and Dreamer: Inspired by a True Story with Kurt Russell. While 2006 had her in the children's classic Charlotte's Web, the following year would see her play a rape victim in the film Hounddog.
Fanning would appear with Kate Beckinsale in 2008's Winged Creatures, a year that also saw her work with Queen Latifah in The Secret Life of Bees. 2009 was another big year for Fanning as she voiced Coraline in the computer-animated film of the same name, fought bad guys with Chris Evans in Push, and joined the cast of the Twilight sequel The Twilight Saga: New Moon, which starred Robert Pattinson and Kristen Stewart.
As time progresses, we'll have more info about Dakota Fanning here. If you have any comments or suggestions about our coverage, please email us.