Kristen Stewart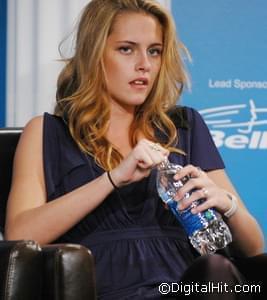 Check out our Kristen Stewart photo gallery.
Born: Apr. 9, 1990 Los Angeles, California, USA
[Please note that we are recovering from a bad database backup and some of our bio entries might be a bit stale. We are baking up a fresh batch as soon as possible.]
Kristen Jaymes Stewart was born April 9, 1990 in Los Angeles, California. Even though her father was a stage manager, producer, and director on numerous Fox television shows, her break came when an agent watched her in a grade school Christmas play. Though initially opposed, her parents agreed to let her start auditioning for work.
Her feature film debut was in 2001's The Safety of Objects with Patricia Clarkson. Following that, she was seen playing Jodie Foster's daughter in Panic Room in 2002, and the daughter of Dennis Quaid and Sharon Stone in Cold Creek Manor in 2003. In 2004, Kristen appeared in Undertow and Catch That Kid and the next year appeared in Jon Favreau's Zathura: A Space Adventure.
2007 was a busy year for Stewart as she was seen in Cutlass, Sean Penn's Into the Wild, The Cake Eaters, The Messengers, and In the Land of Women. In 2008, she was seen in Jumper with Rachel Bilson and Hayden Christensen, What Just Happened and also filmed Yellow Handkerchief, which wasn't released until 2010. Her biggest role in 2008 was playing Bella Swan in the movie adaptation of Twilight opposite Robert Pattinson and Taylor Lautner. With millions of adoring fans who loved the books, the film was a gigantic hit.
In 2009, Kristen appeared in Adventureland with Jesse Eisenberg and also revisited the vampires and werewolves in The Twilight Saga: New Moon. 2010 saw her in The Runaways with Dakota Fanning, Welcome to the Rileys with James Gandolfini and yet another Twilight sequel, The Twilight Saga: Eclipse.
After a bit of a break, Stewart returned to the screen with 2012's Snow White and the Huntsman opposite Chris Hemsworth and Charlize Theron, On the Road with Sam Riley and Garrett Hedlund and The Twilight Saga: Breaking Dawn – Part 2. In 2014, she was seen in Clouds of Sils Maria with Chloë Grace Moretz and Juliette Binoche and Still Alice with Julianne Moore.
As time progresses, we'll have more info about Kristen Stewart here. If you have any comments or suggestions about our coverage, please email us.