Rachel Bilson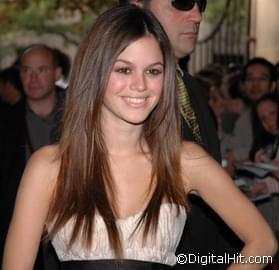 Check out our Rachel Bilson photo gallery.
Born: Aug. 25, 1981 Los Angeles, California, USA
[Please note that we are recovering from a bad database backup and some of our bio entries might be a bit stale. We are baking up a fresh batch as soon as possible.]
Rachel Bilson was born in Los Angeles, California on August 25th, 1981 and comes from a family that is no stranger to show business. She's the great-granddaughter of producer George Bilson and writer Hattie Bilson, grandaughter of director Bruce Bilson, daughter of writer/director Danny Bilson, stepdaughter of actress Heather Medway and neice of producer Julie Ahlberg. With a family tree like that, it's a surprise she didn't choose accounting.
Rachel graduated from Notre Dame High School in 1999. She made a guest appearance on 8 Simple Rules…For Dating My Teenage Daughter and Buffy the Vampire Slayer in 2003 and also appeared in the short film Unbroken that same year. Appearances on MadTV and That '70s Show happened in 2004 as did her big career break. Rachel landed a recurring role on The O.C. Her character was popular and she was offered a contract making her a member of the ensemble that also featured Adrien Brody, Mischa Barton and Benjamin Mackenzie.
Rachel made her feature film debut in 2006's The Last Kiss, which also starred Zach Braff, Jacinda Barrett, Blythe Danner and Casey Affleck.
In 2008, Bilson appeared in the film Jumper with Hayden Christensen and Samuel L. Jackson.
In February of '09, Rachel became engaged to her Jumper co-star, Hayden Christensen. They ended the engagement in the summer of 2010.
As time progresses, we'll have more info about Rachel Bilson here. If you have any comments or suggestions about our coverage, please email us.