Brittany Murphy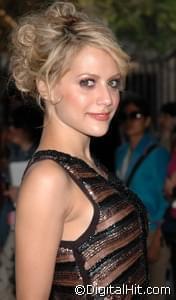 Check out our Brittany Murphy photo gallery.
Born: Nov. 10, 1977 Atlanta, Georgia, USA
Died: Dec 20, 2009
[Please note that we are recovering from a bad database backup and some of our bio entries might be a bit stale. We are baking up a fresh batch as soon as possible.]
Brittany Murphy was born as Sharon Murphy in Atlanta, Georgia on November 10, 1977. Brittany obviously caught the acting bug early as she began performing when she was two. By nine, Brittany had the title role in a regional theatre production of the musical Really Rosie.
She started working in commercials when she was thirteen and that same year she and her mother moved to California to focus on her acting. She won TV spots on Murphy Brown, Kids Incorporated and Parker Lewis Can't Lose and landed her first TV series in 1991 with the short-lived Drexell's Class starring Dabney Coleman and Jason Biggs.
Her big screen debut came with 1993's Family Prayers which starred Joe Mantegna and Anne Archer. More TV spots followed for the young actress including Blossom, Party of Five and a role on the series Sister, Sister.
Brittany's breakout role came in 1995 when she appeared in Clueless with Alicia Silverstone. She played Tai Frasier, the schoolgirl who becomes Cher's makeover project. Her next feature was in 1996 when she worked on Freeway with Kiefer Sutherland and Reese Witherspoon. In 1997, Brittany appeared in the feature film Drive as well as lending her voice to two animated TV shows, King of the Hill and Pepper Ann.
She kept herself busy in 1998, appearing in the straight-to-video releases of The Prophecy II, Bongwater, Phoenix (with Ray Liotta and Anthony LaPaglia), Zack and Reba, David and Lisa (starring Lukas Haas and Sidney Poitier) and Falling Sky.
1999 saw Murphy return to two more high-profile films: Drop Dead Gorgeous starring Denise Richards and Kirsten Dunst and Girl, Interrupted with Winona Ryder, Angelina Jolie and Whoopi Goldberg. She returned to forgettable films in 2003 as she had roles in the TV movie Common Ground, Trixie, Angels!, Cherry Falls and The Audition, a short directed by Chad Lowe and starring wife Hilary Swank.
2001 brought her back to bigger projects. She appeared in Sidewalks of New York (with director/star Ed Burns and Heather Graham), Summer Catch starring Freddie Prinze Jr. and Jessica Biel, Don't Say a Word with Michael Douglas and Riding in Cars with Boys with Drew Barrymore. In 2002, she took on more challenging roles appearing in Spun with Jason Schwartzman, Mena Suvari, and Mickey Rourke and 8 Mile starring Eminem and Kim Basinger. The next year, Brittany starred in the critically-savaged comedy Just Married with then boyfriend Ashton Kutcher. That same year, she starred alongside Dakota Fanning in Uptown Girls. The summer of 2004 saw her in Little Black Book with Ron Livingston and Holly Hunter. That same year she was also briefly engaged to talent manager Jeff Kwatinetz.
In 2005, Brittany joined the cast of Sin City, whose ensemble featured Jessica Alba, Clive Owen, Bruce Willis, Benicio Del Toro and Alexis Bledel. She also appeared in Neverwas with Aaron Eckhart and Ian McKellen.
2006 was a very busy year for Ms. Murphy. She was seen in The Groomsmen with Eadward Burns, Love and Other Disasters with Matthew Rhys, and The Dead Girl opposite Toni Collette and Giovanni Ribisi. She also lent her voice to Happy Feet, whose voice cast featured Elijah Wood, Hugh Jackman, and Nicole Kidman.
In 2008, Brittany appeared in The Ramen Girl.
She died on December 20th, 2009 of an apparent cardiac arrest.
As time progresses, we'll have more info about Brittany Murphy here. If you have any comments or suggestions about our coverage, please email us.