Michael Douglas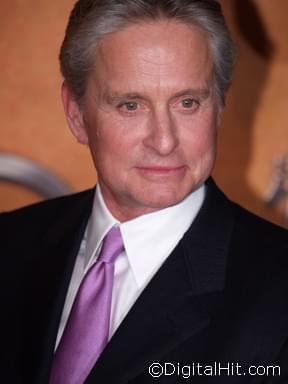 Check out our Michael Douglas photo gallery.
Born: Sept. 25, 1944 New Brunswick, New Jersey, USA
[Please note that we are recovering from a bad database backup and some of our bio entries might be a bit stale. We are baking up a fresh batch as soon as possible.]
It would do Michael Douglas an injustice to pigeonhole him into just one role. He wears many hats: actor, activist, producer, director, husband to Catherine Zeta-Jones, son to Kirk Douglas.
Born on September 25th, 1944 in New Brunswick, New Jersey, the young Douglas spent a lot of time on his father's film sets. It wasn't until he went to college that Michael decided to study acting. Some of his first roles were the leads in Hail, Hero! (1969), Adam at 6 A.M. (1970), Summertree (1971) and Napoleon and Samantha (1972).
Douglas gained popularity when he was cast opposite Karl Malden on the ABC police series The Streets of San Francisco, which ran from 1972-1975. Douglas' next turn was not in front of the camera, but as producer to the incredibly successful One Flew Over the Cuckoo's Nest (1975). His father had the rights to the film, but the younger Douglas convinced him to let him make the film himself. The film won five Oscars: Best Picture, Director, Actor, Actress and Screenplay.
After that success, he went on to star in the thriller Coma (1978) with Geneviève Bujold. His next turn as producer was the nuclear accident thriller, China Syndrome (1979), which he also starred in alongside Jane Fonda and Jack Lemmon. The timing of the film's release was ironic as it coincided with the crisis at Three Mile Island. From the success of The China Syndrome, Douglas went to star in Running (1979), It's My Turn (1980), and The Star Chamber (1983).
In 1984, Douglas wore the dual cap of actor/producer once again for the action comedy Romancing the Stone that co-starred Kathleen Turner and his old pal, Danny DeVito. The next year, Douglas had the lead once again in the film version of A Chorus Line (1985) and basking in the glow of their previous success, teamed up with Turner and DeVito once again for Romancing the Stone's sequel, The Jewel of the Nile.
On the production side, Douglas was the executive producer for the TV series Starman (1986), but it was his acting that gained him attention in 1987. That year, he received double Oscar nominations: one for Fatal Attraction (with Glenn Close and Anne Archer) and the other for Wall Street opposite Charlie Sheen.
Douglas then went on to star in Black Rain (1989) with Andy Garcia and teamed up again with Turner and DeVito for divorce-from-hell comedy, The War of the Roses, which was directed by DeVito.
Michael wore his producer's hat for the next few projects, producing Flatliners (1990), Stone Cold (1991), Double Impact (1991), Eyes of an Angel (1991) and Radio Flyer (1992). When he stepped in front of the camera again his next to films were polar opposites. Shining Through with Melanie Griffith was forgettable, while Basic Instinct was an unforgettable sexual thriller that pitted him against Sharon Stone.
In 1993, Douglas's character was pushed too far in the black comedy Falling Down (with Robert Duvall and Barbara Hershey) while his next character was sexually harassed by Demi Moore in Disclosure.
Moving on to romantic comedy, Michael worked opposite Annette Bening in the Aaron Sorkin-penned The American President (1995). He starred in and produced The Ghost and the Darkness in 1996.
In 1997, Douglas was involved with three projects: he produced Face/Off (with Nicolas Cage and John Travolta) and The Rainmaker; and starred in The Game with Sean Penn. In 1998, he went on to star in the Dial M for Murder remake A Perfect Murder with Gwyneth Paltrow. In 2000, Douglas starred in Wonder Boys with Katie Holmes and Robert Downey Jr. and Traffic with Benicio Del Toro and Catherine Zeta-Jones.
Keeping busy in 2001, Douglas both produced and appeared in One Night at McCool's (with Matt Dillon and Liv Tyler) and also starred in the thriller Don't Say a Word with Brittany Murphy.
A true family reunion was had in It Runs in the Family (2003) with Douglas acting alongside his father Kirk, mother Diana Douglas and son Cameron Douglas. Also that year, Douglas acted with Albert Brooks in a remake of The In-Laws.
Douglas then played a Secret Service agent on the run from Kiefer Sutherland in 2006's The Sentinel a year that also saw him play Kate Hudson's father in You, Me and Dupree. Then in 2007, he starred in King of California opposite Evan Rachel Wood.
Michael was married to Diandra Douglas from March 20th, 1977 to June of 2000. He married Catherine Zeta-Jones in November of that year.
As time progresses, we'll have more info about Michael Douglas here. If you have any comments or suggestions about our coverage, please email us.