Aaron Eckhart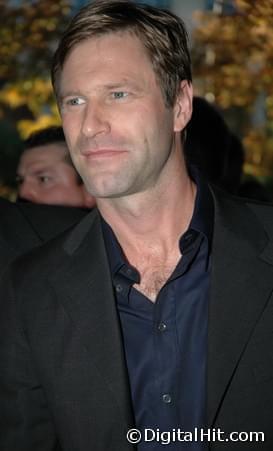 Check out our Aaron Eckhart photo gallery.
Born: Mar. 12, 1968 Cupertino, California, USA
[Please note that we are recovering from a bad database backup and some of our bio entries might be a bit stale. We are baking up a fresh batch as soon as possible.]
Aaron Eckhart was born in Cupertino, California on March 12th, 1968. He attended Brigham Young University, where he met director Neil LaBute. This fortuitous meeting would pair the talented actor and director in many future projects.
Though Aaron had worked on a few projects like the 1992 TV movie Double Jeopardy and 1994's Slaughter of the Innocents, he gained a ton of critical attention when he teamed up with his old university buddy LaBute for 1997's In the Company of Men. His next project was LaBute's Your Friends and Neighbors, which showed a character that was the opposite from his In the Company of Men character and further proved Eckhart's talent and versatility.
Eckhart kept busy with projects like 1998's Thursday with Thomas Jane and 1999's Molly with Elisabeth Shue. 1999 also saw him appear in Oliver Stone's football flick Any Given Sunday, which teamed him with Al Pacino, Cameron Diaz, and Dennis Quaid.
In 2000, he teamed up with ol' buddy LaBute twice for Tumble and Nurse Betty, which starred Renée Zellweger. He also appeared in that year's Erin Brockovich, where he played Julia Roberts's long-haired biker boyfriend. The next year, Sean Penn cast Eckhart as a young detective partnered opposite a hardened veteran detective played by Jack Nicholson in The Pledge. He then starred in LaBute's Possession opposite Gwyneth Paltrow.
In 2003, Eckhart worked with Hilary Swank in The Core, Tommy Lee Jones and Cate Blanchett in The Missing, and with Ben Affleck, Uma Thurman, Paul Giamatti and Colm Feore in John Woo's Paycheck. He showed off his comedic talents playing Laura Linney's boyfriend in the last episodes of Fraiser in 2004 and that same year played an FBI agent on the hunt for a serial killer who murders other serial killers in Suspect Zero with Ben Kingsley and Carrie-Anne Moss.
In 2005, Eckhart put on two hats for the film Neverwas, which he co-produced and starred in opposite Nick Nolte. That was followed by the dark comedy Thank You For Smoking where Eckhart played a spokesman and lobbyist for Big Tobacco. In 2006, he teamed up with LaBute again for The Wicker Man with Nicolas Cage, appeared in The Black Dahlia with Josh Hartnett, Scarlett Johansson and Hilary Swank and worked opposite Helena Bonham Carter in Conversations with Other Women.
A busy 2007 saw Aaron romance Catherine Zeta-Jones in No Reservations, work with Elizabeth Banks and Jessica Alba in Bill, and star in Nothing is Private which also featured Maria Bello and Toni Collette.
In 2008, Eckhart played Harvey Dent in the summer blockbuster The Dark Knight opposite Christian Bale, Heath Ledger and Maggie Gyllenhaal.
As time progresses, we'll have more info about Aaron Eckhart here. If you have any comments or suggestions about our coverage, please email us.