Maggie Gyllenhaal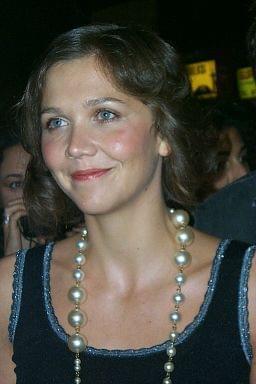 Check out our Maggie Gyllenhaal photo gallery.
Born: Nov. 16, 1977 Los Angeles, California, USA
[Please note that we are recovering from a bad database backup and some of our bio entries might be a bit stale. We are baking up a fresh batch as soon as possible.]
Born November 16th, 1977 in Los Angeles, Maggie Gyllenhaal is the daughter of director Stephen Gyllenhaal and screenwriter Naomi Foner and the older sister of fellow actor Jake.
With that family background, Maggie was destined to be on the big screen. It's pretty fair to say that a healthy dose of nepotism helped her hone her acting chops. She debuted opposite Jeremy Irons and Ethan Hawke in her father's 1992 film Waterland and followed that with his 1993 film A Dangerous Woman, which also provided employment to her brother.
She began attending Columbia University for Eastern religion and literature, but found the time to add two more of her father's films to her resume, the TV movies, Shattered Mind (1996) and The Patron Saint of Liars (1998).
Her next big screen feature, 1998's Homegrown, once again had Dad directing and her brother co-starring.
Maggie graduated from Columbia in 1999 and added supporting roles in the TV movies Resurrection and Shake, Rattle and Role: An American Love Story to her resume that same year. Her role in John Water's 2000 flick, Cecil B. Demented, got her noticed and that same year she appeared in The Photographer and The Pornographer: A Love Story.
In 2001, Maggie played brother Jake's on-screen sister in Donnie Darko and also appeared with Drew Barrymore in Riding in Cars with Boys.
She had a great year in 2002. She caught the attention of critics and audiences with her first starring role, a secretary who takes a little more than dictation from James Spader in the aptly named Secretary. She appeared in three more films that year: Adaptation with Nicolas Cage and Meryl Streep, 40 Days and 40 Nights and Confessions of a Dangerous Mind with Sam Rockwell and George Clooney.
In 2003, Maggie was found in John Sayles' Casa de los babys and Mona Lisa Smile with Julia Roberts, Julia Stiles and Kirsten Dunst.
In 2004, she appeared in The Pornographer: A Love Story and Criminal with John C. Reilly and Diego Luna. She had a busy 2005, working on Happy Endings with Tom Arnold, The Great New Wonderful with Edie Falco, and Trust the Man with David Duchovny and Julianne Moore.
The following year, Maggie played an ex-con in SherryBaby. She continued her busy year appearing in Paris, je t'aime, lending her voice to Monster House, working with Nicolas Cage in World Trade Center and co-starring with Will Ferrell, Dustin Hoffman and Emma Thompson in Stranger than Fiction.
She made High Falls in 2007 and in 2008 starred with Christian Bale, Heath Ledger and Aaron Eckhart in the blockbuster The Dark Knight.
In 2009, Maggie worked with John Krasinski and Maya Rudolph on Away We Go and appeared opposite Jeff Bridges in Crazy Heart, a role that earned her an Oscar nomination for Best Performance by an Actress in a Supporting Role. The following year, she appeared opposite Emma Thompson in Nanny McPhee Returns.
2011 saw her in Hysteria with Hugh Dancy. The film was a comedy about the invention of the vibrator. She followed that with the TV movie The Corrections opposite Ewan McGregor and opposite Viola Davis in Won't Back Down. In 2013, she played a Secret Service agent in White House Down with Channing Tatum and Jamie Foxx.
2014 saw Maggie appear in the movie Frank and star in the mini-series The Honourable Woman.
As time progresses, we'll have more info about Maggie Gyllenhaal here. If you have any comments or suggestions about our coverage, please email us.