Heath Ledger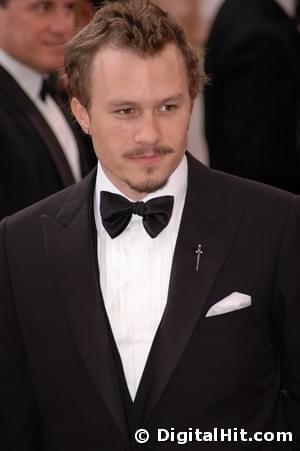 Check out our Heath Ledger photo gallery.
Born: Apr. 4, 1979 Perth, Western Australia, Australia
Died: Jan 22, 2008
[Please note that we are recovering from a bad database backup and some of our bio entries might be a bit stale. We are baking up a fresh batch as soon as possible.]
Heath Ledger was born April 4, 1979 in Perth, Western Australia, Australia. Having to pick from electives in high school cooking or drama, Ledger chose drama. A natural talent, at 17 he headed for Sydney, Australia to fulfill his dreams.
He made his film debut in the 1992 Aussie film Clowning Around and then followed that with appearances in the Australian TV shows Ship to Shore and Sweat. In 1997, Heath appeared in the drama Blackrock and the family flick Paws.
He made a huge impression on North American audiences in 1999 with the Taming of the Shrew inspired 10 Things I Hate About You where he played opposite Julia Stiles. Playing the handsome lead, Ledger was also noticed by female fans but made the wise move not to languish in teen movies.
Making wise choices, audiences saw him in 1999's Two Hands with Bryan Brown, as Mel Gibson's son in The Patriot and with Rufus Sewell in 2001's A Knight's Tale. Also in 2001, Ledger co-starred with Halle Berry and Billy Bob Thornton in Monster's Ball. In 2002, he starred alongside Kate Hudson and Wes Bentley in The Four Feathers.
He took the lead role in 2003's Ned Kelly with then girlfriend Naomi Watts and co-stars Geoffrey Rush and Orlando Bloom and also appeared in The Order with Mark Addy. 2005 was a busy year for Ledger. He was seen in Casanova with Sienna Miller, Lena Olin and Jeremy Irons, earned an Academy Award nomination for Brokeback Mountain with Jake Gyllenhaal, Michelle Williams and Anne Hathaway, starred in The Brothers Grimm opposite Matt Damon and appeared in Lords of Dogtown with Emile Hirsch. Besides the critical acclaim and award nods Heath earned for Brokeback Mountain, Heath also found a new love in co-star Michelle Williams. The two had a baby daughter, Matilda, but the relationship ended in 2007.
In 2006, he made Candy with Abbie Cornish and was one of several actors who portrayed Bob Dylan in I'm Not There, which also starred Cate Blanchett, Christian Bale, and Richard Gere. He also teamed up with Bale to play The Joker in the 2008 summer release The Dark Knight During the filming of Terry Gilliam's The Imaginarium of Doctor Parnassus, Heath was found dead in his New York City apartment. Though he was found with sleeping pills at his side, the NYPD did not immediately rule the death a suicide. The investigation concluded that he had died of an accidental overdose of prescription medications.
Sadly, this brought the end to the career of a talented young actor who made film choices based on the quality of the role and not the quantity of the money.
As time progresses, we'll have more info about Heath Ledger here. If you have any comments or suggestions about our coverage, please email us.