Abbie Cornish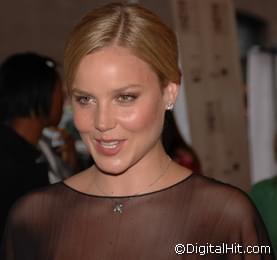 Check out our Abbie Cornish photo gallery.
Born: Aug. 7, 1982 Lochinvar, New South Wales, Australia
[Please note that we are recovering from a bad database backup and some of our bio entries might be a bit stale. We are baking up a fresh batch as soon as possible.]
Abbie Cornish was born on August 7th, 1982 in Lochinvar, New South Wales, Australia. Growing up on a large farm, one day Abbie entered and won a contest in the Australian teen magazine Dolly. From there, she got an agent and began auditioning for roles on Australian television.
She made her television debut in the Aussie police drama series Wildside, where she played Simone Summers from 1997 to 1999. She was then seen in the TV movie Close Contact.
She worked with Kelly McGillis on 2000's The Monkey's Mask and followed that up with a role on the Australian series Outriders in 2001. From there, she was seen in the film Horseplay in 2003.
In 2004, Cornish kept busy with roles in One Perfect Day, Everything Goes and Somersault. The latter film earned raves at Cannes as well as some awards in Australia. A couple of years later, she was in Candy with Heath Ledger and Geoffrey Rush and played opposite Russell Crowe and Marion Cotillard in Ridley Scott's A Good Year. 2006 also had Abbie's name in the headlines, but not for her film work. Shooting the film Stop Loss in Texas, rumors swirled around that she was involved with her co-star Ryan Phillipe, who was married to actress Reese Witherspoon at the time. Cornish's publicist released a statement saying that, "It's not true. They are co-stars and that is it." The pair did go public with their relationship shortly after.
In 2007, she played Bess Throckmorton in Elizabeth: The Golden Age with Cate Blanchett and Clive Owen. In 2008, she was seen opposite Ryan Phillipe in the finally released Stop Loss.
As time progresses, we'll have more info about Abbie Cornish here. If you have any comments or suggestions about our coverage, please email us.