Russell Crowe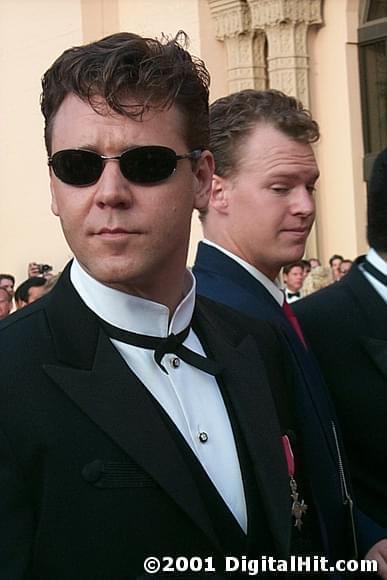 Check out our Russell Crowe photo gallery.
Born: Apr. 7, 1964 Wellington, New Zealand
[Please note that we are recovering from a bad database backup and some of our bio entries might be a bit stale. We are baking up a fresh batch as soon as possible.]
Born in New Zealand on April 7th, 1964, Russell and his family moved to Australia when he was four. His parents were set caterers in the Australian film industry and Crowe would find himself hanging around the various movie and TV sets. He eventually ended up getting a role as an orphan on the Aussie TV series Spyforce. This led to other child extra work.
At the age of 16, Crowe was more into rock music than acting. Calling himself Russ Le Roc, he started playing in bands and in 1980 released a single called I Want To Be Like Marlon Brando. He later formed a band called Roman Antix that eventually morphed into 30 Odd Foot of Grunts, a band that he still plays and writes for.
In 1990, Crowe's acting career got moving fast again when he landed a role in Prisoners of the Sun, which is sometimes found as Blood Oath. He followed that with roles in films like The Crossing, Hammers Over the Anvil, and the mini-series Brides of Christ. In 1992, he made an film that would turn out to be quite important for him, Romper Stomper, where he played an Australian skinhead. He worked steadily for the next three years and in 1995 his Romper Stomper role was his key to the States.
Actress Sharon Stone had seen his performance in that film and knew that he could stand his ground opposite her. She had him cast in her Western flick The Quick and the Dead. His performance is often credited as the best thing in the film. From there on he was on the radar of Hollywood producers. He appeared with Denzel Washington in Virtuosity and Bridget Fonda in Rough Magic. In 1997, he worked with Kevin Spacey and people took notice of his role as Bud White in L.A. Confidential.
1999 showed both the variety of roles Crowe can play and the polar opposites that Disney can release. The year saw him playing an Alaskan hockey player opposite Burt Reynolds in Mystery, Alaska and a true-life tobacco industry whistleblower opposite Al Pacino in The Insider. Odds are Crowe will not be remembered for the first one, but the reaction to the second film kept him near the top of the casting lists. Several critics groups pegged Russell Crowe's performance in The Insider as the best of 1999. He received nominations for both the Golden Globes and the Oscars®.
In December of 2000, Russell was nominated for a Golden Globe for his role in Gladiator opposite Joaquin Phoenix. On March 25th, 2001, Russell won the Best Actor Academy Award® for his performance as Maximus.
In 2002, Russell received kudos for his performance in A Beautiful Mind, including a Golden Globe win and an Academy Award® nomination.
In 2003, Crowe played Captain Jack Aubrey in the seafaring adventure Master and Commander: The Far Side of the World. The role earned him a Golden Globe nomination.
In 2005, Crowe again teamed with Ron Howard for Cinderella Man. The Depression-era drama (with Renée Zellweger) garnered some early Oscar buzz when it was released in the spring. Unfortunately, the film was overshadowed by Crowe's actions during the press junket. When he went complain about faulty phone equipment at New York City's Mercer Hotel, he became enraged by the clerk's attitude and threw the phone at him, hitting the man in the face. He was charged with assault and criminal possession of a weapon (the telephone). The situation was very serious to Crowe as a conviction could have ended his ability to work in the United States.
He went into damage control mode. Appearing on David Letterman's talk show, Crowe apologized to the man he hit and tried to explain his frustration of dealing with the faulty equipment and time difference between him and his wife and child in Australia. He said that, "I was in Manchester, England. I flew there on Friday and I flew back to New York on Sunday. I've just got to cut myself some slack. I'm just getting used to being a husband and a father away from home and that's a level of abject loneliness I'm just not used to at all… As my wife says, that's not really much of an excuse because millions of fathers and husbands travel for business all the time. I'm just new at it. Actually, quite frankly, I hope I never get used to it. I don't want to be away from my family like this."
He settled with the hotel clerk, Nestor Estrada, in August 2005, and after talks with the New York District Attorney's office, he plead guilty to plead guilty to third-degree misdemeanor assault in November of 2005.
In 2006, Crowe teamed up with Gladiator director Ridley Scott for the charming comedy A Good Year, which unfortunately didn't find a large audience. He returned to westerns in 2007's 3:10 to Yuma with Christian Bale and reteamed with Denzel Washington for Ridley Scott's American Gangster.
In 2008, Crowe starred in Body of Lies opposite Leonardo DiCaprio and Tenderness with Laura Dern. 2009 saw him in the newspaper drama State of Play with Ben Affleck, Rachel McAdams and Helen Mirren.
As time progresses, we'll have more info about Russell Crowe here. If you have any comments or suggestions about our coverage, please email us.