Naomi Watts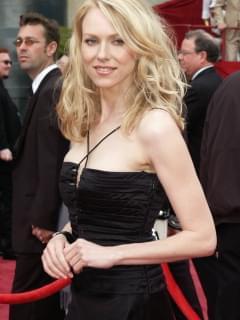 Check out our Naomi Watts photo gallery.
Born: Sept. 28, 1968 Shoreham, England, UK
[Please note that we are recovering from a bad database backup and some of our bio entries might be a bit stale. We are baking up a fresh batch as soon as possible.]
Though Naomi Watts has recently captured the public's attention with roles in The Ring and Mulholland Drive, she actually has a film career that goes back to 1986.
Naomi was born on September 28th, 1968 in Shoreham, England. Her father, Peter Watts, a sound engineer for Pink Floyd, died when she was ten years old. When Naomi was fourteen, her mother decided to move the family to Australia.
Naomi began to take acting lessons and audition for commercials. She became best friends with Nicole Kidman after meeting her at one of these commercial auditions.
She landed her first film role in 1986's For Love Alone and had her first big part in John Duigan's 1991 film Flirting, which also starred buddy Nicole Kidman. That same year she co-starred with Brenda Fricker and Russell Crowe in the Australian miniseries Brides of Christ before working with Duigan again in 1993's Wide Sargasso Sea.
Heading to test the acting waters in the US, Watts landed a role in Matinee and a few other films before playing Jet Girl in the cult hit flick Tank Girl.
She also appeared in several TV productions including the Hallmark Hall of Fame drama Timepiece, the short-lived 1997 NBC series Sleepwalkers and the 1999 miniseries The Hunt for the Unicorn Killer.
Her big breakthrough happened when she was cast in Mulholland Drive, a pilot for a TV series by director David Lynch. ABC passed on the show, so Lynch shot some additional material and turned it into a theatrical release. The film was a hit at Cannes and Naomi suddenly found herself garnering accolades and attention. She also got a lot of attention for a Sundance-screened short she produced called Ellie Parker. Add to that mix the attention she received for being Kidman's friend at the same time she was garnering attention for Moulin Rouge, mix in a relationship with fellow Aussie Heath Ledger, and Watts had the recipe for critical and press appeal. It's no wonder that people paid attention to her 2002 Dreamworks' film The Ring.
As time progresses, we'll have more info about Naomi Watts here. If you have any comments or suggestions about our coverage, please email us.