Jennifer Aniston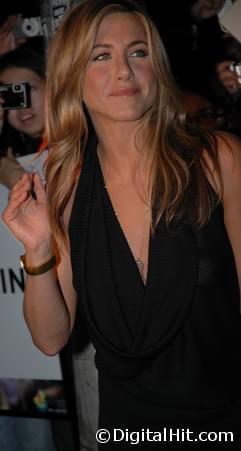 Check out our Jennifer Aniston photo gallery.
Born: Feb. 11, 1969 Sherman Oaks, California, USA
[Please note that we are recovering from a bad database backup and some of our bio entries might be a bit stale. We are baking up a fresh batch as soon as possible.]
Jennifer Aniston was born on February 11th, 1969 in Sherman Oaks, California.
Jennifer, who is of Greek descent, spent a childhood year living in Greece with her family, but returned to New York City after her father, actor John Aniston, snared a role on the soap Love of Life.
She first tried her hand at acting at age 11, when she joined the Rudolf Steiner School's drama club. Aniston began her professional training as a drama student at New York's High School of the Performing Arts, a.k.a. the Fame school. Upon graduating in 1987, she won Off-Broadway roles in For Dear Life and Dancing on Checker's Grave. 1989 saw her become a series regular on Molloy before landing roles on The Edge and the Ferris Bueller TV series.
Stardom followed when Friends hit the tube. Jennifer soon became a sex symbol too. For a while, she was known mostly for her character's hairstyle, a fate similar to her godfather, actor Telly Savalas, whose bald Kojak character was known for his hairstyle too. Jennifer has graced numerous magazine covers over the years, including one famous Rolling Stone issue that had her wearing nothing but good hair and a great tan line.
Jennifer married Brad Pitt on July 29th, 2000.
Though Friends was a powerhouse hit, we really learned the power of these small screen actors when they negotiated $1 million an episode salaries plus a share of the show's syndication profits.
Jennifer also continued her work in film. In 2001, she worked opposite Mark Wahlberg in Rock Star and gained great reviews in 2002 for her lead in the indie fave The Good Girl. She then worked opposite two big comedians, appearing in 2003's Jim Carrey flick Bruce Almighty and taking the title role in the Ben Stiller comedy Along Came Polly in January of 2004.
While Friends ended in 2004, another ending was on its way. Pitt and Aniston separated in January of 2005. Divorce papers were filed by Jennifer in March of 2005 and the divorce was finalized in October of that year.
With a lot of attention on her, Aniston kept busy. She appeared with Clive Owen in Derailed and opposite Kevin Costner in Rumour Has It in 2005. 2006's Friends with Money and The Break-Up faced added pressure during their press junkets, as the media tried to confirm rumors of her relationship with Vince Vaughn. The pair were in fact a couple but ended their relationship in December 2006.
As time progresses, we'll have more info about Jennifer Aniston here. If you have any comments or suggestions about our coverage, please email us.