Jennifer Lopez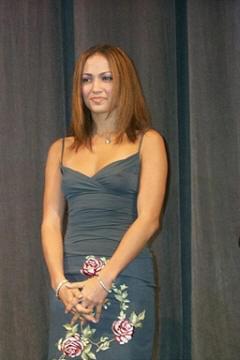 Check out our Jennifer Lopez photo gallery.
Born: July 24, 1969 The Bronx, New York, USA
[Please note that we are recovering from a bad database backup and some of our bio entries might be a bit stale. We are baking up a fresh batch as soon as possible.]
Jennifer Lynn Lopez was born in The Bronx on July 24th, 1969. She started dance and voice lesson at age five. Upon graduating high school, she walked in a law office while still doing dance gigs and classes at night.
Though she had a role in 1986's My Little Girl with Mary Stuart Masterson, Lopez' big break came in 1991, when she was cast as one of the dancing Fly Girls on the sketch comedy show In Living Color. She exited that show in 1993 and had a string of short-lived series roles in South Central, Hotel Malibu and Second Chances. In 1995, she appeared in My Family with Edward James Olmos and Money Train with Woody Harrelson and Wesley Snipes. The following year, she appeared in Jack with Robin Williams and Diane Lane and Blood and Wine opposite Jack Nicholson and Stephen Dorff.
She really caught the public's attention in 1997, when she landed the title role in Selena, playing the murdered Tejano music sensation. That same year she starred in Anaconda with Jon Voight and Ice Cube and worked opposite Sean Penn in Oliver Stone's U Turn. She had a short-lived marriage to Ojani Noa from 1997 to 1998, which has led to long-term legal headaches for Lopez as she's had to go to court to prevent him from shopping around both a book and a honeymoon video.
She steamed up the screen with George Clooney in 1998's Out of Sight, a film that earned good critical notices. She also lent her voice to the computer-animated Antz.
In 1999, Lopez released the album On the 6. She became a regular in the tabloids at that time too. When she began to focus more on her music career, she began dating rapper Sean "Puff Daddy" Combs. In December of 1999, J. Lo and "Puffy" were stopped by police as they left the scene of a shooting at a New York City nightclub. Jennifer was not charged, and Puffy was acquitted on the charges he faced.
In 2000, Jennifer made the visually stunning film The Cell, and followed that up with The Wedding Planner and Angel Eyes in 2001. She also released the album J Lo that year. It was released the same week as The Wedding Planner and she became the first artist to have a number one album and film in the same week. That year also saw her split with Combs on Valentine's Day 2001 and marry dancer/choreographer Cris Judd on September 29th, 2001.
2002 kept J. Lo busy on the acting/singing/tabloid fronts. She appeared as an abused wife who trains to fight back in Enough, separated from hubby Cris Judd in June 2002 and became engaged to Ben Affleck in November 2002. She ended the year appearing in Maid in Manhattan opposite Ralph Fiennes.
She did run into some career and personal problems in 2003. The "Bennifer" duo did a ton of publicity surrounding their box office and critical bomb Gigli. They called off their lavish wedding in the fall citing that there was too much "media attention". The cancellation only served to turn up the heat on the couple. Jennifer's camp announced that the couple had split in January of 2004.
In March of that year, the press attention was again turned up as Lopez had a small role in Kevin Smith's Jersey Girl, which starred Affleck. That film was followed by a turn on the dance floor opposite Richard Gere in Shall We Dance?. She also found time in 2004 to get married to singer Marc Anthony. The next year, Lopez worked opposite Jane Fonda in Monster-in-Law and Robert Redford and Morgan Freeman in An Unfinished Life.
In the fall of 2006, Lopez attended the Toronto International Film Festival with Anthony to stir up interest and find a distributor for their film El Cantante. The couple welcomed fraternal twins Emme Maribel and Maximilian David Muñiz in 2008. Muñiz is Marc Anthony's real last name.
Lopez hit the big screen again in 2010, starring with Alex O'Loughlin in The Back-up Plan. That same year, Lopez joined Aerosmith rocker Steven Tyler as one of the new judges on the FOX show American Idol. She and Tyler left after two seasons, but Lopez returned in season 13.
Lopez split from Marc Anthony in 2011. She worked opposite Cameron Diaz and Matthew Morrison in 2012's What to Expect When You're Expecting and joined the voiceover team of Ray Romano, Denis Leary and John Leguizamo for Ice Age: Continental Drift. She also worked with Jason Statham and Michael Chiklis in Parker.
A busy 2015 saw Lopez work on The Boy Next Door with Ryan Guzman and Kristin Chenoweth, Lila & Eve alongside Viola Davis and Shea Whigham and the animated Home opposite Jim Parsons and Rihanna. 2015 also saw her begin work on an upcoming NBC FBI series, Shades of Blue, opposite Ray Liotta and Drea de Matteo.
As time progresses, we'll have more info about Jennifer Lopez here. If you have any comments or suggestions about our coverage, please email us.